Week of June 22, 2008
Missing Link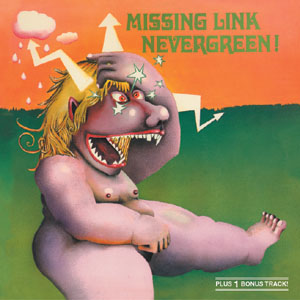 Personnel:
Markus Sing - Guitar
Günther Latuschik - Sax
Gabriel Dominik Mueller - Vocals
Dieter Miekautsch - Keyboards
Dave Schratzenstaller - Bass
Holger Brandt - Drums

Album:
Nevergreen! (United Artists UAS 29439) 1972
CD: Garden of Delights CD114, 2005

These were one of the lesser known United Artists acts, based in Munich. "Nevergreen!" was recorded at the Dierks Studio in October 1972. On the seven tracks, a complex and varied musical style emerged. It included jazz sax riffing ("Sorcery"), some solo piano parts ("Song For Ann"), loud rock outbursts ("Kids Hunting") and matching acoustic guitars ("Spoiled Love"). However, the overall sound is quite jazzy, so the album will appeal the most to fans of Embryo, Xhol, Ardo Dombec, Thirsty Moon, etc. Actually, Dieter Miekautsch joined Embryo (also Missus Beastly) after the group's demise in 1973. Drummer Holger Brandt later joined Sahara. The Missing Link album is quite good, but certainly not a classic. Many other albums of the period overshadow "Nevergreen!".
Taken from Cosmic Dreams at Play - A guide to German Progressive and Electronic Rock by Dag Erik Asbjørnsen, Borderline Productions, ISBN 1-899855-01-7
---