Week of March 9, 2008
MAAD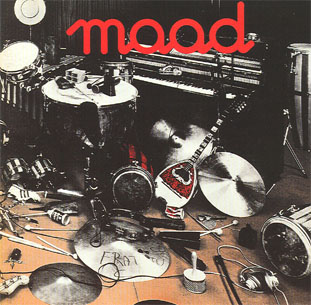 Personnel:
Pino De Vita - Pianos, Trombone
Attilio Zanchi - Guitars, Bass, Bouzouki
Jonathan Scully - Vibraphone, Marimba, Congas
Joe Castanuela - Drums

Album:
MAAD, 1976 Divergo
CD: Mellow (MMP 295), 1998

MAAD played their very own kind of ironic and absurd experimental music. The group had an uncommon sound, highlighting piano and vibraphone. Their album merged fragments of easy listening, jazz, ethnic music and even progressive rock. MAAD were associated with L'Orchestra, a label started by Stormy Six.
Taken from Scented Gardens of the Mind - A guide to the Golden Era of Progressive Rock (1968-1980) in more than 20 European Countries, by Dag Erik Asbjørnsen, Borderline Productions, ISBN 1-899855-12-2
---