Week of May 11, 2008
Invisible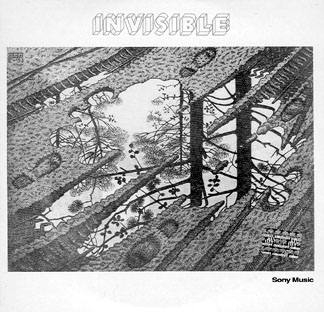 Personnel:
Luis Alberto Spinetta (Guitar, Vocals)
Pomo (Drums)
Machi (Bass, Vocals)
Tommy Gubitsch (Guitar)

Albums:
1974 Invisible (Talent SE-510) + (single Talent 4016)
1975 Durazno Sangrando (CBS 119467)
1976 El Jardin De Los Presentes (CBS 119590)

Singles:
1974 Elementales leches/Estado de coma (Talent 3959)
1974 Oso del sueño/Viejos ratones del tiempo (Talent 4067)

After the break-up of Pescado Rabioso, Luis Alberto Spinetta formed a new trio together with two former Pappo's Blues members: Héctor Lorenzo (Pomo) on drums and Carlos Rufino (Machi) on bass. Invisible debuted with a series of shows at the Astral Theatre in Buenos Aires at the end of 1973. Spinetta's music at this time was turning more progressive and challenging.

Those concerts were terrific. While the trio was playing an instrumental piece called "Tema de Elmo Lesto" (Theme from Thean Noying), a large cube-headed figure would appear onstage to "annoy" the musicians. And while they were performing "Azafata del tren fantasma" (The stewardess of the Ghost Train), the surrealistic film Un chien Andalou (1928- by Luis Buñuel and Salvador Dalí) would be projected onto a screen. Once again, Luis Alberto knew how to thrill his audiences!

In March 1974, Invisible entered the studio to record their debut LP. A single was released in advance: "Elementales leches" b/w the terrific wah-wah guitar number, "Estado de coma", reminiscent of Pescado Rabioso.

The first album surprised everybody. The cover showed drawings of genius Dutchman Mauritius Cornelius Escher (1898-1972). Although his drawings had already been used in the UK by Mott the Hoople and in the USA by Mandrake Memorial, this was something absolutely new for Argentina! Not only that, a bonus single was enclosed (in an envelope attached to the inner sleeve) with two new great songs: "La llave del Mandala" and "Lo que nos ocupa es esa abuela, la conciencia que regula el mundo".

All of the album tracks are also wonderful and hard to describe. Spinetta's guitar sounds as clear and powerful as it never would again. The arrangements and rhythms are complex and heretofore unheard of from a rock trio. If I had to choose my favourite, I would pick the two-part "El diluvio y la pasajera" for its beauty. A must-have album, one of my favourites of all time, and definitely one of the best from 1974. Absolutely recommended. Still, by the end of the year, Invisible released another good single that would close out this first production cycle.

For the next album, they signed up with a major label (CBS), which garnered more production and promotional support. "Durazno Sangrando" is a good, but more relaxed, progressive album. The title number was very popular and should have been released as a single. The lyrics, based on a book by Carl Jung, were very important as well.

During 1975, a Various Artists compilation record was released, entitled, "Rock Competition" (CBS 19445) - featuring Invisible's great version of the Tanguito classic "Amor de primavera". Also in 1975, young virtuoso electric guitarist Tommy Gubitsch joined the group. Now a quartet, Invisible released their third and very popular final album: "El jardín de los presentes". This LP had a lot of tango-influenced music and lyrics. There is some bandoneón playing on there; and the opening song, the much-remembered "El anillo del capitán Beto", tells the story of a sort of space city bus driver with the same nickname as that of the popular soccer player.

This attempt to fuse tango with rock music was a trend in those days due to the fact that revolutionary tango composer Astor Piazzolla was getting involved with rock musicians. (He later regretted this, claiming that rock performers did not like to practice to improve their playing!). Anyway, let us admit that Spinetta had already used a bandoneón in a song years before that: "Laura va", on Almendra's debut album. Another noteworthy track is "Niño condenado (Perdonado)", with its powerful King Crimson-influenced interlude. "El Jardín de los Presentes" - a very good album - was promoted with a big sold-out show.

However, by the end of the year (1976) the group split. Luis Alberto Spinetta pursued a solo career (sometimes under the name Spinetta-Jade) mostly in the jazz-rock and fusion territory. Pomo and Machi would play with different artists.

Invisible was undoubtedly one of the best groups to hail from Argentina. All albums have been reissued on vinyl (some editions of the debut LP lack the single) and on CD. The definitive edition of the first album on CD has all the singles included as bonus tracks.
Taken from The Magic Land - A guide to Beat, Psychedelic and Progressive Rock music between 1966 & 1977 in Argentina and Uruguay (Marcelo Camerlo, Marcelo Gasió)
---