Week of January 29, 2006
Hölderlin/Hoelderlin
Personnel:
Christian Grumbkow - Guitar
Jochen Grumbkow - Cello, Flute, Guitar, Keyboards
Nanny De Ruig - Vocals
Christoph "Nops" Noppeney - Violin, Viola, Piano, Flute
Peter "Kassim" Kaseberg - Bass, Vocals
Joachim Kaseberg - Guitar
Hans Baar - Bass, Guitar
Michael Bruchmann - Drums

Albums:
Hölderlin's Traum (Pilz 20 21314-5) 1972
(re-released in 1981 in original fold-out cover as part of the 'Pop Import' series)
CD: Spalax 14297, France, 1997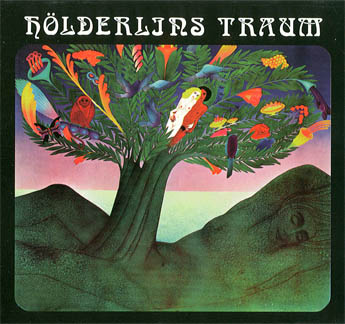 Hoelderlin (Spiegelei 26511-5 U) 1975
CD: Music Is Intelligence, WMMS 041, Germany, 1994; EMI 0946 3 85380 2 8, 2007

Clowns & Clouds (Spiegelei 26511-5 U) 1976
CD: Music Is Intelligence, WMMS 043, Germany, 1994; EMI 0946 3 85381 2 7, 2007
(First re-issues of the latter two albums had new catalogue numbers: INT 160.601 & INT 160.607)
Live Traumstadt 1977
CD: Music Is Intelligence, WMMS 047/048, Germany, 1994; EMI 7243 8 60716 2 0, 2007
Rare Birds 1977
CD: Music Is Intelligence, WMMS 045, Germany, 1994; EMI 0946 3 85383 2 5, 2007
New Faces 1979
CD: Music Is Intelligence, WMMS 049, Germany, 1994; EMI 0946 3 85382 2 6, 2007
Fata Morgana 1981
CD: EMI 0946 3 85384 2 4, 2007
Eight 2007
CD: EMI 00946 3 85385 2 3, 2007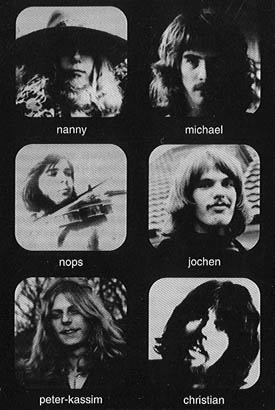 Hölderlin established themselves in the mid-seventies as the leading German folk-rock band, in close competition with Ougenweide. The group came together in December 1970. When Rolf-Ulrich Kaiser took over the management of the Pilz label in late 1971 he wanted to transform it into a progressive folk label, and Hölderlin gained the opportunity to record their debut album, 'Hölderlin's Traum', in January 1972 in the Dierks Studio. This collection of seven songs captured the sextet in excellent shape, resulting in an all-time classic album. Several members had had classical music education, which was evident in the refined and complex arrangements. Together they handled 15 different instruments! Even so, three guests were featured: Peter Bursch (sitar, from Broselmaschine), Mike Hellbach (tablas, also from Broselmaschine) and Walter Westrupp (recorder). As the title hinted, the music had a dreamy, sometimes psychedelic atmosphere. Dieter Dierks developed this particular style further on the second Emtidi album. The more folky driving force came from bands like the Incredible String Band and more particularly Fairport Convention and Pentangle, who also featured beautiful female singers.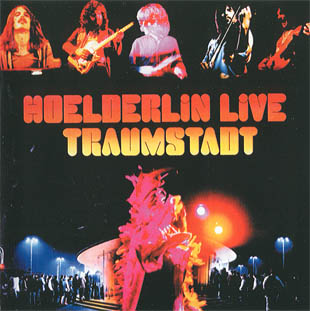 Hölderlin's further recording career was somewhat delayed by the demise of Pilz and Ohr in 1973. It seems the group wasn't allowed to sign with another label prior to late 1974, when a contract with Intercord Spiegelel was secured. With Konrad Plank, they recorded their second album in February 1975. Nanny de Ruig had by now left the band. The vocals were now shared between Joachim Grumbkow and Christoph Noppeney. A second guitarist had also been added (Joachim Kaseberg, brother of Peter). Musically this was another great album. Their progressive folk-rock had gained some influences from the lyrical, vintage Genesis. Guests were Zeus B. Held (sax) of Birth Control and Norbert Jacobsen (clarinet) of Release Music Orchestra. The main attraction on the album was the 17-minute suite, "Deathwatchbeetle".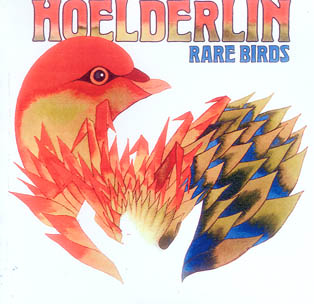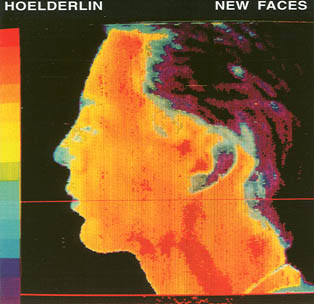 'Clowns And Clouds', recorded during January 1976, continued the development towards lyrical progressive rock. The keyboard work, handled by J. Grumbkow, was now more dominant with a considerable use of electric piano and string synthesizers. Apparently it was a strange type of concept album with a 'clown' side and a 'cloud' side. The latter was the best one, offering mostly instrumental work in two long tracks. The Kasebergs had both quit Hölderlin by this time, with Joachim taking care of the live sound. Hans Baar became their new bassist and guitarist.
Taken from Cosmic Dreams at Play - A guide to German Progressive and Electronic Rock by Dag Erik Asbjørnsen, Borderline Productions, ISBN 1-899855-01-7
---