Week of January 21, 2007
Gringo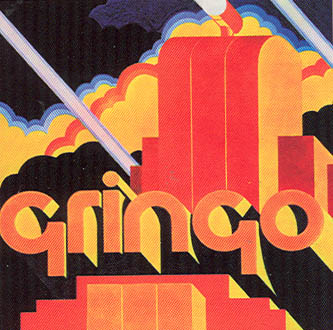 Personnel:
Casey – Vocals
Simon Byrne - Drums, Vocals
Henry Marsh - Guitar, Keyboards, Vocals
John Perry - Bass, Vocals

Album:
Gringo (MCA MKPS 2017) 1971
CD: Audio Archives AACD 036, Won Sin WS 885 668 2

45:
I'm Another Man/Soft Mud (MCA MKS 5067) 1971

Evolving from student beat groups, Utopia/Toast, in the 1960s Bath, Gringo toured Europe and even made a living with a club residency on the south coast of France. They were an opening act on a UK tour featuring Barclay James Harvest and Caravan. Their recorded legacy is a quality album of pop-tinged progressive rock that still sounds fresh, with a lightness of touch and many distinctive twists. The song-within-a-song piece, "Emma And Harry", is worthy of note, but all nine tracks are good. It is tempting to wonder if "Land Of Who Knows Where" may have been inspired by a certain Caravan album released the same year!

Gringo split and John Perry joined Spreadeagle, but not in time to play on their only album. The Caravan connection reappeared and he joined that band in time for the "Girls Who Grow Plump..." album. He played later with Quantum Jump, Curved Air and Aviator and did a host of session and solo work. Henry Marsh sampled chart success with Sailor, while Simon Byrne worked with Brotherhood Of Man among others. There you have Gringo, an overlooked band and album that is worth discovering. The B-side of their single is a non-album track.
(Neil Murray)
Taken from The Tapestry of Delights Revisited - The Comprehensive Guide to British Music of the Beat, R&B, Psychedelic and Progressive Eras 1963-1976, Vernon Joynson
ISBN 1 899855 15 7
---