Week of March 5, 2006
Gigi Pascal E La Pop Compagnia Meccanica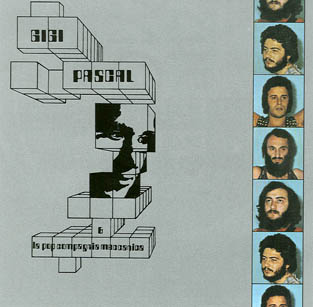 Arturo (guitar)
Mario (organ)
Franco (bass)
Fulvio Marzocchella (drums)

LP
'Debut' - Fans/Phonotype (GPX9-001) 1973
CD
'Debut' - Mellow (MMP 249) 1994

Singles (picture sleeves)
Il giorno dell'addio/Istoria de un amor Zeus (BE 299) 1970
Ricominciare/Tanti auguri señora Zeus (BC 5033) 1975
Amarti come non sai/La terza luna Zeus (BC 5036) 1975

This quartet had a similar story to Fabio Celi & gli Infermieri, also from Naples, as they released an album in 1973 that sounds like it had been recorded three or four years earlier.

Only the first names of the musicians are known; the only known member was drummer Fulvio Marzocchella, who also played with pop artists such as Umberto Bindi, Nico Fidenco, Patty Pravo and Orietta Berti.

'Debut' is a very short album (eight songs lasting the total of about 26 minutes) with organ as the main instrument and, where Fabio Celi's album had frantic vocals, this has a softer, more relaxed vocal that owes much to the melodic Italian pop of the 60s, but always well integrated with the band's sound.

The music has some nice classical influences, like on the instrumental 'Fuga in Si minore', 'Crescente' and the long 'Un concerto' with a very good and complex arrangement, but at times the sixties sound is more evident, like on the opening track, 'La tua voce'.

Gigi Pascal released two more singles in 1975 before disappearing.
Taken from ItalianProg, a website entirely dedicated to the Italian progressive music of the 1970s
---