Week of April 1, 2007
Fresh Maggots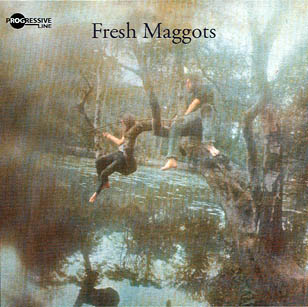 Personnel:
Mick Burgoyne - guitar, tambourine, violin
Leigh Dolphin - acoustic guitar

Album:
Fresh Maggots (RCA SF 8205) 1971
Reissued on Fan Club (198?) and on CD (Fan Club CD 8205) with two bonus tracks, "Car Song" and "What Would You Do".
CD: Si-Wan SRMC 1039, 1995, Korea; Progressive Line PL 592, 2003, Australia

45:
Car Song/What Would You Do (RCA RCA 2150) 1971

This duo came from Nuneaton in Warwickshire, with their own individual brand of folk-rock. The album is full of good songs like the exquisite "Rosemary Hill" and "Dole Song", a song about signing on, which features some arresting guitar work. Other highlights include "Everyone's Gone To War", a song of different moods with some good fuzz guitar work; "Who's To Die", a lovely melodic song with a riff which sounded like early Electric Light Orchestra and the majestic finale, "Frustration". There are no weak links though on this consistent album which is thoroughly recommended.
Taken from The Tapestry of Delights - The Comprehensive Guide to British Music of the Beat, R&B, Psychedelic and Progressive Eras 1963-1976, Vernon Joynson
ISBN 1 899855 04 1
---