Week of November 12, 2006
England's Glory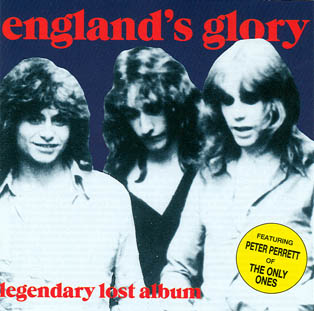 Personnel:
David Clarke - Lead Guitar
Harry Kakoulli - Bass, Backing Vocals
Jon Newey - Drums, Percussion
Peter Perrett - Vocals, Guitar
Michael Kemp Piano, Organ

Album:
England's Glory (promo only) (Private Pressing) 1973
Reissued on Five Hours Back (TOCK 4) 1987 and on CD Anagram (CD MGRAM 73) 1994 and on vinyl and CD by Skyclad in the US only in 1991

A short-lived band but a significant one. They were Peter Perrett's band prior to the formation of The Only Ones. A Dylan obsessive, Perrett had released an acoustic demo in the Spring of 1972. Harry Kakoulli, a talented bass player who later played with Squeeze before recording two albums, completed the line-up together with Jon Newey and David Clarke who'd earlier played in an early seventies acid-rock group, They Bite. This outfit had been a regular attraction at underground clubs and student union gigs during 1970/71 supporting bands like Stone The Crows, T2 and Uriel. Jon Newey, incidentally, went on to work for 'Sounds' and became publisher of Tower Records' 'Top Magazine'.

England's Glory had the enterprise to finance their own album. Initially eight acetates bearing a blank, light blue label were pressed up and then 25 vinyl copies were privately pressed. They bore a pink label with the matrix number VEN 105. The album was heavily bootlegged in Australia in the late seventies/early eighties, where The Only Ones enjoyed cult status, but it's been officially issued in the UK since 1987 and reissued again on CD in 1994. It's well worth acquiring a copy. Almost all the material on the album is good, the stand-out track being the fast, rather punkish 'City Of Fun'. Perrett's distinctive vocals shine through, the instrumentation is catchy and the disc sounds very much like the early Only Ones. The recent reissue on Cherry Red subsidiary Anagram includes three tracks: 'Predictably Blonde', 'Weekend' and 'Trouble In The World' which weren't on the original 1973 promo release or on the Five Hours Back or Skyclad reissues.
Taken from The Tapestry of Delights - The Comprehensive Guide to British Music of the Beat, R&B, Psychedelic and Progressive Eras 1963-1976, Vernon Joynson
ISBN 1 899855 04 1
---