Week of April 8, 2007
Day Of Phoenix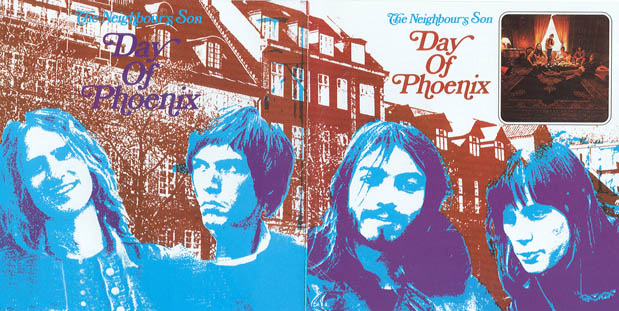 Personnel:
Ole Prehn - guitars, vocals
Karsten Lyng - lead guitars
Hans Lauridsen - lead vocals
Erik Stedt - bass, piano, saw
Hendrik Friis - drums, percussion
Jess Stæhr - bass, vocals
with:
Kenneth Knudsen - piano
Peter Friis - double bass

Albums:
Wide Open N-Way, 1970 Sonet SLPS 1519; Greenwich (a Decca subsidary) GSLP-1002, UK & Germany
CD: Repertoire REP 4439, 1994

Neighbour's Son, 1972 Sonet SLPS 1549; Chapter One CHS-R812, UK

Both albums reissued as a double-LP on Sonet SLP 1620 in 1979 and on CD - SON 159 635-2, 2000 (Universal Music A/S)

The group was formed in 1968 by Cy Nicklin along with Prehn, Lyng, Jess Stæhr Nielsen (all three were ex-members of the beat group The Maniacs) and Hendrik Friis. During the early days they released one single and wrote the soundtrack for "Stine Og Drengene", before Nicklin left to join Culpeper's Orchard.

With new vocalist Hans Lauridsen, Day Of Phoenix recorded their first album in Copenhagen with Tony Reeves (of Colosseum) as their producer. Their sound was an unusual (and highly ambitious) mixture of influences from the US West Coast (particularly Grateful Dead's "Anthem For The Sun"), rural folk-rock and the jazzy sound of Denmark's Burnin' Red Ivanhoe. This doesn't hang together too well (the two tracks beyond 10 minutes are partly disjointed free-rock) but the concept is so original that it's still well worth listening to. After the first split of Burnin' Red Ivanhoe, Ole Fick, Stæhr and Andersen joined a re-organised Day Of Phoenix in June 1972. Their new album, "The Neighbour's Son" was a disappointment with plain rock songs that lacked spark and energy.

Ole Prehn later formed Phantom Band with a couple of ex-members of Mo-I-Rana. They played rural rock in the Neil Young vein (including a cover version of "Cinnamon Girl").
Taken from Scented Gardens of the Mind - A guide to the Golden Era of Progressive Rock (1968-1980) in more than 20 European Countries, by Dag Erik Asbjørnsen, Borderline Productions, ISBN 1-899855-12-2
---