Week of January 8, 2006
Cherry Five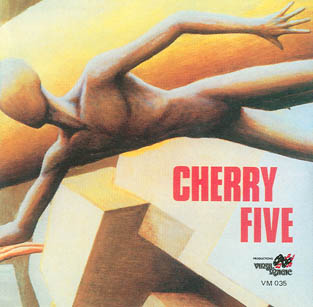 Personnel:
Claudio Simonetti - organ, mellotron, synthesizers
Massimo Morante - electric & acoustic guitar
Fabio Pignatelli - bass
Tony Tartani - vocals
Carlo Bordini - drums

Album:
Cherry Five 1975 CINEVOXSC 33.027
re-released on CD by Vinyl Magic (VM 035) in 1993

This mysterious session group was, in fact, the nucleus of Goblin in disguise, collaborating with the duo Tartani and Bordini. The album was, according to the cover, recorded between April and June 1975, chronologically placing it in between the first two Goblin albums. This is contrary to the reports that this was a pre-Goblin group. The original LP is extremely rare!

The album is excellent, with equal shares of guitar-ridden heavy progressive and keyboard-based classical rock. No track is shorter than 7 minutes. Some of the vocal arrangements (occasionally multi-voiced) are close to contemporary Yes (listen to "The Picture Of Dorian Gray"). All songs are sung in English, making this a great album choice for those who enjoy 1972-75 English symphonic rock (or even the derivative American groups Yezda Urfa, Mirthrandir or Pentwater).
Taken from Scented Gardens of the Mind - A guide to the Golden Era of Progressive Rock (1968-1980) in more than 20 European Countries, by Dag Erik Asbjørnsen, Borderline Productions, ISBN 1-899855-12-2
---