Week of December 10, 2006
Carmen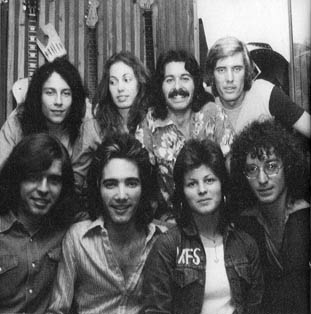 Personnel:
Angela Allen - Vocals, Keyboards
David Allen - Guitar, Vocals
Roberto Amaral - Vocals, Percussion
Paul Fenton - Drums
John Glascock - Vocals

Albums:
Fandangos In Space (Regal Zonophone SRZA 8518) 1973
Dancing On A Cold Wind (Regal Zonophone SLRZ 1040) 1975
The Gypsies (Mercury SRMI 1047) 1976

'Fandangos In Space' issued on Dunhill (DP 50192) in the US. Both 'Fandangos In Space' and 'Dancing On A Cold Wind' reissued on one CD (Line LICD 92 1150) in 1992 and now on Angel Air (2CD, SJPCD 229, 2006)

45s:
Flamenco Fever/Lonely House (Regal Zonophone RZ 3086) 1974
Bulerias/Stopping Stone (Regal Zonophone RZ 3090) 1974

Angella Allen, David Allen and Roberto Amaral originally came from Los Angeles, California, and Carmen are regarded as one of the first flamenco-rock groups from the West Coast. Angela later played on Jethro Tull's 'Too Old To Rock 'n' Roll, Too Young To Die' album. John Glasock, who also played bass with Carmen had previously been with Chicken Shack on 'Imagination Lady', Ken Hensley's Gods and Toe Fat (on 'Toe Fat Two') and later, from 1976 to 1979, with Jethro Tull. Glasock sadly died after heart surgery in 1979.

Taken from The Tapestry of Delights - The Comprehensive Guide to British Music of the Beat, R&B, Psychedelic and Progressive Eras 1963-1976, Vernon Joynson
ISBN 1 899855 04 1
---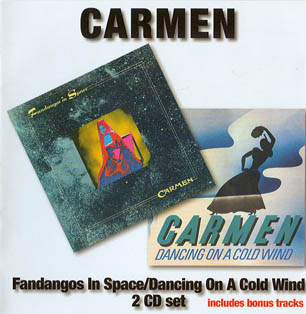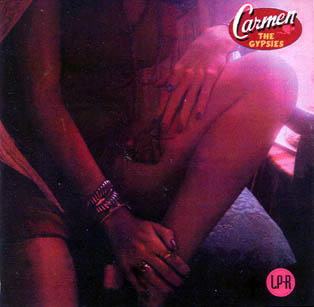 When books and websites mention David Bowie's Midnight Special TV show, filmed at the Marquee Club in London in October 1973 and broadcast to a coast-to-coast US audience the following month, they often refer to his guests, Carmen, as 'a Spanish band'. This typifies the myth and misinformation surrounding an outfit that were truly ahead of their time - and, if whispers are to be believed, a strong influence on Queen's early act and image.

The story begins on Hollywood's Sunset Boulevard, where David and Angela Allen's parents' flamenco restaurant, El Cid, saw David take his first musical steps in the company of his guitarist father and dancer mother. "I was in my parents' stage act from the age of four; I was going to be a concert guitarist because they knew all the promoters and everything. Then the Beatles came along and I thought, 'the hell with this'! There came a point when I felt, 'I've spent my whole life learning something I know really well - how can I mix it with electric (guitar), which I love?' It became Carmen."

The band's then-manager managed to get Clive Davis and other music moguls down to see the band, which originally formed in July 1970. But all agreed their great live act probably couldn't be translated to record. So, in January 1973, David used his university savings to transfer Carmen lock, stock and barrel to a more broadminded Britain for one last try. "Within four months of coming over we were working, by some ridiculous chance, with Tony Visconti and rubbing shoulders with David Bowie and Marc Bolan!" Paul Fenton, the British drummer who completed the revised line-up of the Allens, Roberto Amaral and John Glascock, recalls auditioning in Tony Visconti's office. "We went along with a guitar, sat down on the floor and sang. He was impressed with the originality, the dedication and the musicianship... the following day, we were making arrangements to record." Fenton had replaced John's brother Brian when he opted not to make the trip, and later turned down the drum stool with Paul McCartney's Wings, so certain was he of Carmen's eventual success!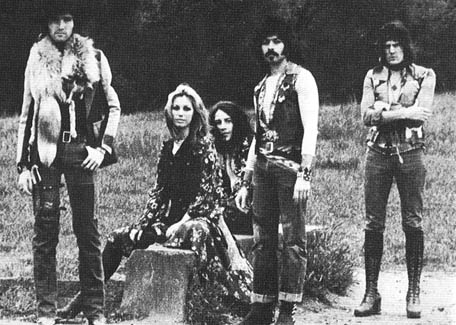 The band's first two albums, 'Fandangos In Space' and 'Dancing On A Cold Wind', were recorded with Visconti in summer 1973/spring 1974 respectively and, released on Regal Zonophone, have since been described as among his favourite productions. As David Allen explains, the first album summed up the Carmen concept thus far, while 'Dancing On A Cold Wind' – "my favourite, in parts" - took things a stage further. "I thought the harmonies were great and loved the sound Tony got with the bass... big and powerful. We were really getting good together; we went in and more or less made it up on the spot. Very little thought had to go into it because we were so comfortable with each other at that point." The then Mrs. Visconti, Mary Hopkin, helped with the choral parts and, with Tony playing recorder, made the second Carmen album something of a family affair.

The exposure on Midnight Special, still regularly broadcast on US TV to this day, helped Carmen obtain Stateside opening slots with Rush, ELO, Blue Oyster Cult and Santana. But, as Paul Fenton recalls, a hoped-for tour with Bowie, which would have exposed them to the perfect audience, was not to be. "He absolutely adored our band. I'm sure if he'd been touring he'd have had us with him... but all he was doing at that time was recording." Instead they opted for three and a half months in the US with Jethro Tull in early 1975. In some of the Southern states with a significantly Hispanic population they got better write-ups than the headliners, but the match was imperfect. Nevertheless, flute-playing frontman Ian Anderson was impressed enough to sign up John Glascock as his bass player and have Angela Allen sing backing vocals on their next album.

David Allen believes Carmen's stage show operated on more than one level. The audience definitely had to listen, he says, "but at the same time there were a lot of things in it that hit you straight in the face. My sister was a hell of a good looking woman, Roberto was good looking too and they were both great dancers."

But resources were insufficient to launch such a sophisticated act with the razzmatazz it deserved and, as Queen shot to fame with a simpler, more direct proposition, Carmen's window of opportunity was about to close. Mick Jagger had sounded out Carmen's management about them opening for the Rolling Stones, but both this and a reunion with Tony Visconti did not happen.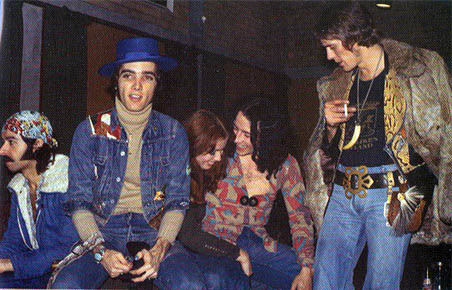 A third album, 'The Gypsies', reflected the stage act - as David Allen notes, "we recorded it within two weeks of coming off a year's touring" - but was done on a reduced budget. "It doesn't quite have the same production that Visconti would have created," Paul Fenton admits, "but we were struggling. We needed to do a tour with Bowie or someone big enough and theatrical enough to bring in the right audience, but that wasn't going to happen so we said let's write something that's a little bit more commercial. If they do re-issue 'The Gypsies', we'd probably take it back to the studio and bring it into the 21st Century." Its release on Mercury was a US-only affair.

The summer of 1975 brought the end of the Carmen story. Only John Glascock (who played with Jethro Tull until his death in 1979) continued full-time in rock music, though David Allen wrote songs for Agnetha from ABBA's first solo album. Since then he's become an acclaimed photographer, trained as a psychotherapist and, recently, returned to music.

The release of these albums on CD is timely, with Hispanic music now accepted as a commercial and cultural force. Besides, he smiles, "It's nice to think I'll have something to show my kids!"

Carmen, for David Allen, was "a long and tangled tale. Everyone involved was very passionate, very committed - so passionate and committed that it probably helped the thing to blow apart at the end. It was technically very difficult stuff. I guess the intensity was like being in Yes, though they managed to stay together longer. We all really believed in the music we made and found great pleasure in doing it."

Now you can share that pleasure...

Michael Heatley
August 2006
Taken from the CD reissue of 'Fandangos In Space' and 'Dancing On A Cold Wind' (2CD, Angel Air, SJPCD 229, 2006)
---