Week of October 7, 2007
Capsicum Red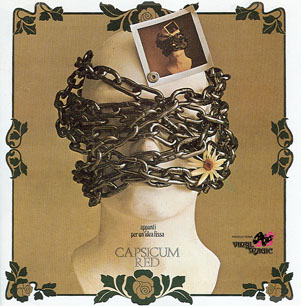 Personnel:
Mauro Bolzan - organ, piano, moog
Bruno Canzian - guitar, vocals
Paolo Steffan - bass, piano, vocals
Roberto Balocco - drums

Album:
Appunti Per Un'idea Fissa, 1972 Bla Bla BBL11051
CD: by Artis (ARCD 029) 1991; Vinyl Magic (VM050) 1995 (with 4 bonus tracks)

One of the lesser-known Italian bands that combined progressive rock with classical music, inspired by the adaptations of bands like The Nice. Capsicum Red's 15-minute reading of Beethoven's piano sonata "Pathetique" is indeed the best track on the album.

Unfortunately, Alfredo Tisocco and Pino Massara's experimental production (including some strangely displaced phasing effects) disturbes the classical and 'clean' character of the music. The track "Rabbia & Poesia" finished with a King Crimson pastiche.
Taken from Scented Gardens of the Mind - A guide to the Golden Era of Progressive Rock (1968-1980) in more than 20 European Countries, by Dag Erik Asbjørnsen, Borderline Productions, ISBN 1-899855-12-2
---