Week of October 12, 2008
Brutus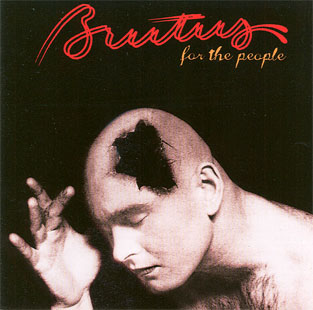 Personnel:
Bruce Gordon - Trumpet, Organ, Guitar, Bass
Bill Robb - Sax, Trombone
Len Sembaluk - Drums
Sandy White - Bass
Sonny Wingay - Guitar
Wally Zwolinsky - Organ, Lead Vocals

Album:
Brutus (GRT) 1975
CD: For The People Bullseye, BLP CD 4021, 2000

45s:
(up to 1975)
Funky Roller Skate/Flyer (Quality 1953) 1970
Gimme Rock/Duck Pond (Quality 1971) 1970
Help Me Free Me/Mistakes Friend (Yorkville 45034) 1971
Slow And Easy/ (GRT ) 1975
Ooo Mama Mama/ (GRT ) 1975

A Toronto, Ontario-based band fronted by Wally Zwolinski, formed in 1969. They underwent many personnel changes over the years but their most stable line-up is shown above. Their big break came in 1975 when they signed to GRT Records with Jack Richardson of Guess Who fame as their producer. They went on to enjoy a No. 65 hit with "Who Wants To Buy A Song" in September 1976.

In all, twenty musicians played for this band, including the six from the album line-up above.

After Brutus split up, Zwolinski embarked on a brief solo career enjoying hits with "New York City" (1978), "Call Out My Name" (1979) and "Shaka Shaka" (1979). He went on to form Rage at the start of the eighties.
Taken from "Dreams, Fantasies and Nightmares" by Vernon Joynson, an extensive guide to Canadian / Australian / New Zealand and Latin American psych and garage music 1963 - 1976.
---