Week of June 26, 2005
Zyma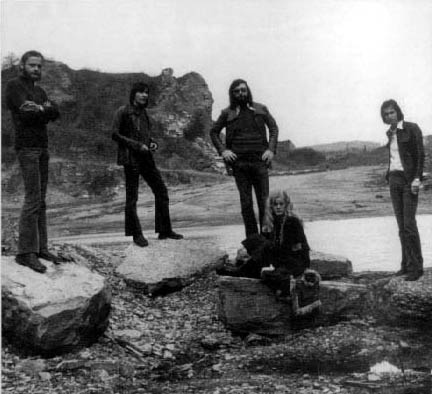 An obscure 70s progressive group, Zyma, on their LP, had what seemed like a very Canterbury-influenced jazz-rock style, with hints of Soft Machine and Isotope.

Personnel:
Bodo Brandl - bass
Dorle Ferber - vocals, violin
Gunter Hornung - organ, electric piano, synthesizer
Udo Kübler - drums, vocals
Tim Pfau - guitar, vocals

Albums:
Thoughts - Z Productions 0381978 (1978)
Brave New World - private release 151079 (1979)

Taken from: "The Crack in the Cosmic Egg", Steven Freeman, Alan Freeman. ISBN: 0-95295-06-0-X, Leicester 1997
---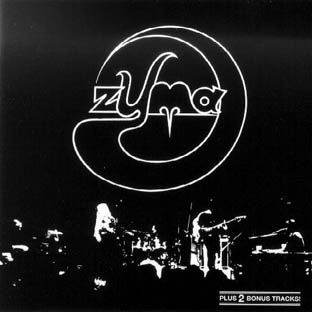 Zyma, named after an artificial ferment, were a band founded in 1972 by musicians from the area around Heidelberg and Mannheim. At that time, in the initial stages, they were playing progressive hard rock. Their keyboard player was Günter Hornung (b. 02/16/1938 in Karlsruhe), a teacher, who had played in many jazz and jazz-rock bands before, among them a big band, and whose last one had been the Groovers, a soul band. Due to his many years of experience and outstanding abilities and skills, Hornung was the leader of Zyma. Yet their driving force was Bodo Brandl (b. 04/10/1943 in Nikolsburg) on bass, also a teacher, who had been performing since 1963. He, too, came from the Groovers, as well as Meinrad Hirt (b. 01/05/1945 in Triberg), who was now singing, playing violin, flutes, keyboards and sometimes guitar. Their lead guitarist and lead singer was Tim Pfau (b. 06/08/1951 in Mannheim), their drummer Karl-Heinz Weiler (b. 07/24/1951 in Mannheim). Günter Hornung's wife Ellen was the band's manager, Mitsou Kührbis was in charge of the PA. In 1973, they began playing progressive jazz-rock, whereupon Karl-Heinz Weiler left the band. He was replaced by Udo Kübler (b. 03/31/1951 in Heidelberg), a drummer since 1966. In 1970, Kübler had founded Filter, an experimental band, and before joining Zyma he had been a member of Medusa (pop), Ra and Brassy Brew (both jazz-rock). When he left Medusa, with whom he had released a single, Karl-Heinz Weiler took his place. In 1973, under the pseudonym Hyazintus, Weiler was also to play drums for the band Nine Days Wonder on their LP, "We Never Lost Control".
After Meinrad Hirt had left Zyma (he was to rejoin them some years later) in early 1974, Dorle Ferber (b. 09/07/1952 in Mannheim) joined them as singer and on violin and flute. She had studied classical music, had a folk background and brought these influences into Zyma. In the same year, they were given a chance by Alfred Kersten to release two of their own compositions, "Law Like Love" and "Tango Enough", on the double LP, "Proton 1" (Kerston FK 65017) which also featured Nexus, Andorra, Penicillin and Sun. This compilation had a run of only a few hundred copies, probably no more than 300, but it is, in view of its rarity and quality, valued amazingly cheaply in collectors' circles. The album was recorded at the TFE studio in the town of Neustadt/Weinstrasse in the summer and autumn of 1974. In 1975, South German radio station SDR broadcast a programme where for 45 minutes Zyma were presented in detail, and some time later the band had a TV appearance in the youth show, "Drum Special", broadcast by South German TV station SWF III. In 1976, Tim Pfau left the band. Two years later, Meinrad Hirt rejoined them and Zyma released "Thoughts", their first LP of their own (Z-Productions 0381978) in a private pressing of 1,000 copies. The album had been recorded in the Bauer studio in Ludwigsburg and all of the songs on it were the band's own compositions. The cover artwork was created by Udo Kübler, probably the most active band member besides Bodo Brandl. In 1978, the LP was presented in the 45-minute SWF III TV show, "Pop Shop Spezial", and in the same year, Zyma were extensively presented in the SDR radio show "Point". Unfortunately, the master tapes for the "Thoughts" album and the two Kerston recordings don't exist any more, so that for the CD reissue, songs had to be de-crackled in a costly procedure. This task was fulfilled in an exemplary way by Walter Speckmann from Dortmund, an acquaintance of Dorle Ferber's from her later days with the German band Cochise. It was not possible to include Zyma's unreleased 15-minute version of Chic Corea's "Little Sunflower", since it was the band's wish that the CD should contain only their own compositions. By the way, such lengthy improvisations were not unusual for Zyma, at least when it came to performing live. Quite often, by means of psychedelic interludes, individual songs were extended to a whole hour, so that usually only four or five numbers were played in a gig that would last for several hours.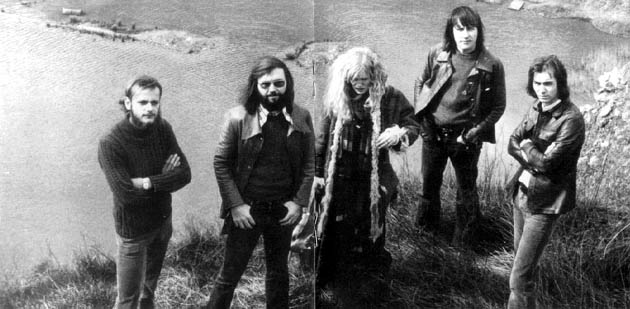 A CD release of "Brave New World", the second and last Zyma album (1979) is also in the works. It will contain information about the second part of the band's history. But before that, an entire case full of tapes with yet unreleased recordings, currently in Günter Hornung's possession, will have to be looked through, because among them there will surely be some suitable bonus track material.

What's surprising is that to date, collectors have only barely taken notice of Zyma. Apart from being offered now and again in "Oldie-Markt", a collectors' magazine, "Thoughts" has hardly been mentioned or offered anywhere as yet. That deplorable state of affairs has now been remedied by the release of the CD on hand.
Taken from the CD reissue of "Thoughts" (Garden Of Delights, CD026, 1998)
---