Week of January 2, 2005
Zomby Woof
Zomby Woof, a band from the Swabian town of Reutlingen, named after the Mothers Of Invention song, had been playing keyboard-oriented and highly adorned art rock in the wake of Yes and early Genesis since around 1973. It all began in 1971, when guitarists Heinrich Winter and Udo Kreuß joined Frank Keinath on bass and drummer Thomas Moritz to form a band that had no name and no gigs as yet. Frank Keinath moved away from Reutlingen, and no replacement was to be found. As a consequence, another guitarist, Ulrich Herter, joined the band, and Udo Kreuß changed to bass. Shortly afterwards, Matthias Seelmann-Eggebert on Hammond organ and, subsequently, Matthias Zumbroich on keyboards became band members, which meant that the sound we have come to know later on was created. They used two keyboards for a considerable period of time, following the example of Procol Harum. At the Hayinger Festival in 1974, where Kraan, Birth Control and Embryo also performed, the band had their first television appearance. They declined an offer made by Walter Holzbaur, manager of Erna Schmidt and Kraan, to appear live on the radio because they didn't feel self-confident enough at the time to handle such a project, an opportunity that was not to return. In 1976, Thomas Moritz and Matthias Seelmann-Eggebert left the band to concentrate on their studies, and Berthold "Bea" Maier joined them on drums to form the line-up that is to be heard on their LP. Friedrich Förster and, later on, Wolfgang Dattenberg were responsible for the huge light show, which was supposed to enhance the music by means of laser effects, films and integrated slides. Messrs. Maier and Herzog were in charge of humping amplifiers and loudspeakers around. In 1977, when they considered themselves to be mature enough for serious work, Zomby Woof recorded a couple of clean demo tapes in their rehearsal room, which they sent around to record companies in the hope of landing a contract. At the time, such a venture was not as difficult and doomed to failure as it is today. Jupiter of Munich accepted them, a relatively small label, which was to release the highly demanded LP "Acid In Wonderland" by Ego On The Rocks later on, and recordings started at the Olympia Music Studios in the spring of 1977, produced by Steve Kazan, a rather mad Englishman. In the studios, they found one of those incredibly expensive mellotrons, unfortunately out of order. During any possible time-off, Udo Kreuß cleaned the sophisticated device thoroughly, and it functioned again, which is why we are lucky to hear the sound of a mellotron on the LP, although the band didn't possess one. For the cover design of the LP Zomby Woof came together in a former cinema in Dachauer Straße, Munich, where photographer Hans-W. Schultze took photos of them on stage. The photo shown here features the band against the background of a slide show. The record containing only songs written by the band was released in autumn 1977 (Jupiter-Records 25231 OT), distributed by BMG Ariola. As far as we know, some 5,000 copies were sold, a considerable number. Today, collectors rate the record at 50 DM to 100 DM in mint condition. Shortly afterwards, a 7" single "Dora's Drive"/"Mary Walking Through The Woods" (Jupiter-Records 11656 AT) was released, but probably with a much lower circulation and is almost impossible to find on the market. Not even the band members are in possession of a copy, and it was extremely difficult and expensive to find one in mint condition. We are dealing here with two tracks taken from the LP but in shorter versions of 3:55 and 4:30 respectively. A second LP on the Jupiter label never materialised because Steve Kazan, the man responsible for this type of music, was sacked because he got on everybody's nerves. In 1979, Berthold Maier and Heinrich Winter left the band to form Alarm. They were replaced by Achim Czech on drums and Harald Horvath on vocals, but this was not a sudden but rather gradual change in the line-up. Together with an additional vocalist, David Hanselmann, previously with Message and Triumvirat, this line-up recorded a second LP called "No Hero" in the Galgenberg Studio in Schwabbach in 1979. This LP was produced by Ewald Schumacher, who still holds the rights to this effort today, but they were unable to find a record company to release the LP. Some of the tracks are in the vein of "Riding On A Tear", others, however, show a definite pop orientation. This is why Garden of Delights has decided not to re-release this work. Without a recording contract and future prospects, Zomby Woof split. The last gig took place in the Listhalle in Reutlingen on 8 July 1980.
Udo Kreuß and Ulrich Herter eventually set up their Atlantis Studio. Ulrich managed to be in the charts with his German New Wave band Kiz and, later on, with Two Of Us and is still busy with his recording studio. Udo Kreuß left the joint venture in 1986 and moved to Berlin, where he got a TV job and is now the chief sound engineer with the private German TV station Sat1. Three years ago, he started playing bass again in a cover band named Vintage Guns. Matthias Zumbroich joined Alarm in 1981 and is a piano player on cruise ships today. In 1998, he released an instrumental CD just featuring piano music under the simple title "C". At the moment, he is working on another CD entitled "Scales Of Love", produced by Ulrich Herter and scheduled for release in 2003. They are still looking for a label. Heinrich Winter has meanwhile taken to playing the dobro and released a CD entitled "The Weekend Comes" on Cut Music in 2001. This CD was recorded together with his girlfriend under the band name of Silk 'n' Steel. Achim Czech joined Gate, who had already released two LPs on the Brain label. He contributed to their third LP, "Well Done" (D 1980: Biber Bi 6080). Today, he is a member of Wirtschaftswunder. Thomas Moritz played with the Berlin band Panzerknacker between 1979 and 1981.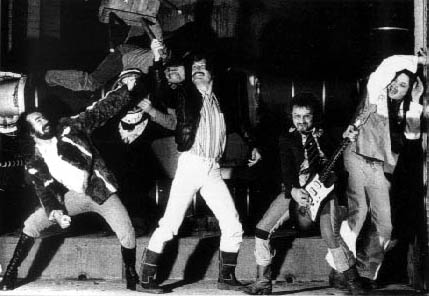 This CD was taken from the master tapes and features, as usual, the original cover artwork. The short versions of "Dora's Drive" and "Mary Walking Through The Woods", which were only released on the 7" single, have been added as bonus tracks, together with "Highwire Dance" and "Back Home", two so far unreleased recordings made in the rehearsal room. They have nothing to do with "No Hero". These tracks were, at the time, recorded on a four-track TEAC. The line-up of the LP can still be enjoyed on "Highwire Dance" from 1978. "Back Home" still features Heinrich Winter on guitar with Harald Horvath handling the vocal parts, which means that the recording must have been done in 1979. Unfortunately, these two tracks were copied so many times in the course of time that, at the end, only MC copies existed. They, nevertheless, still manage to give us an impression of how Zomby Woof sounded after the release of their LP. Udo Kreuß, Nikolaus Esche and Peter Ploch fortunately took charge of re-processing these tracks.
Finally, two comments taken from pertinent anthologies. In "The Crack In The Cosmic Egg" (Leicester 1996), Steven and Alan Freeman write: "A majestic and sophisticated progressive rock band with lots of keyboards, a strong energy in a dreamy Faithful Breath-style. Highly derivative, yet also quite original. We don't know anything about their history." Nor does Dag Erik Asbjørnsen in his "Cosmic Dreams At Play" (Glasgow 1996): "A little known group who recorded one album for the short-lived Jupiter label, known for some great symphonic rock releases."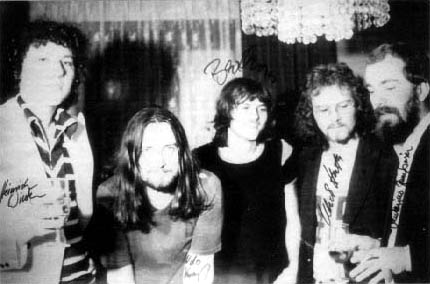 Many thanks to all of them for their friendly help, especially to Udo Kreuß and Matthias Zumbroich. Thanks also to Jürgen Kaun for his role as mediator and to Helgard von Schenckendorff from Jupiter Records for her efforts.

M. Thurn
Taken from the CD reissue of "Riding On A Tear", Garden of Delights CD078, 2002
---