Week of September 18, 2005
Uncle Dog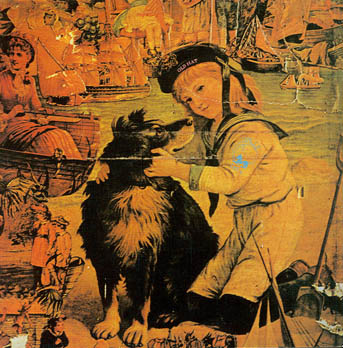 Personnel:
Phillip Crooks - Guitar
Carol Grimes - Vocals
Sam Mitchell - Guitar
John Porter - Guitar, Bass
Dave Skinner - Keyboards, Vocals
Terry Stannard - Drums

Album:
Old Hat (Signpost SG 4253) 1972

45:
River Road/First Night (Signpost SGP 752) 1972

A short-lived rock group including Carol Grimes, who fronted Delivery in 1970 and also made solo recordings. John Pearson played drums on four of the tracks and John 'Rabbit' Bundrick, who was later with The Who, played piano on a couple of tracks. Most of the songs were penned by Dave Skinner, although there are a few covers, including Dylan's "I'll Be Your Baby Tonight" and Sam C. Phillips/Hermann Parker's "Mystery Train". Carol Grimes' vocals are the most appealing thing about this album. John Porter is a producer nowadays and produced The Smiths and John Lee Hooker's comeback album in 1989.
Taken from The Tapestry of Delights - The Comprehensive Guide to British Music of the Beat, R&B, Psychedelic and Progressive Eras 1963-1976, Vernon Joynson ISBN 1 899855 04 1
---
The easy-going boogie-woogie feel is the main attraction of this early 70s album – a pretty standard fare of jazzy British blues-rock driven by guitars, saxes and honky-tonk piano, a bit like early Joe Cocker, instrumentation-wise. Because of Carol Grimes' vocals, the whole thing sounds a bit like a tame, but still very enjoyable, version of Stone The Crows. Worth investigating!

Alex Gitlin
September 2005
---