Week of November 2, 2003
Tymepiece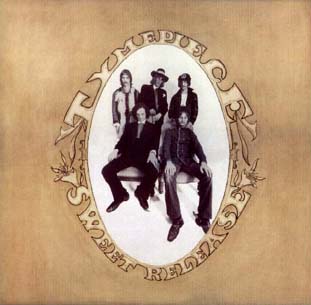 Personnel:
Glenn Bland (aka Chris Kristopher) - Vocals, Harmonica
Joanne Goodman - Vocals
Colin McAuley – Drums
Alan Oloman - Vocals, Guitar
Darcy Rosser – Bass
Felix Wilkinson (aka Brian Williamson) - Keyboards, Accordion

Album:
Sweet Release (Infinity SINL 934113) 1971

45s:
I Gotta Know What You're Like/Bird In The Tree (Festival FK 2457) 1968
Become Like You/Give A Little More (Festival FK 3369) 1968
Won't You Try/Down And Out (Infinity FK-3702) 1971

A Sydney-based band, although they originated from the Blue Mountain Region of New South Wales, who were once known as The Black Diamonds, a raucous garage/punk combo. 'The Ugly Things' compilation includes that incarnation's "I Want, Need, Love You".

They were a frequent attraction at the Hawaiian Eye and the Coli Drum Disco, which they shared with The Affair as a house band.

Musically very versatile, they could handle material ranging from vibrant pop, raucous punk to progressive rock. They also performed under the name The Love Machine in 1968 to support a Pat Aulton-created single.

"Why?", the opening track on their album, can also be heard on "Group Therapy". Along with "Nuts", the album's best cut, it represented the hard psychedelic strand on their ambitious, wide-ranging album, which doesn't really gel. Other styles represented include country ("Sweet Release", "Joseph Straite", "Home Song" and "Take Me Back"), folk ("Reflections"), R&B ("I Love, You Love"), country-pop ("Won't You Try") and a rambling keyboard/guitar progressive style eight-minute attempted opus called "Shake Off", which ranks as one of the album's best tracks but falls short of being stunning. "Won't You Try" was also culled for 45 release. "The Bird In The Tree" has also resurfaced on "So You Want To Be A Rock 'n' Roll Star" (3-CD).
Taken from "Dreams, Fantasies and Nightmares" by Vernon Joynson, an extensive guide to Canadian / Australian / New Zealand and Latin American psych and garage music 1963 - 1976.
---