Week of August 31, 2003
Ticket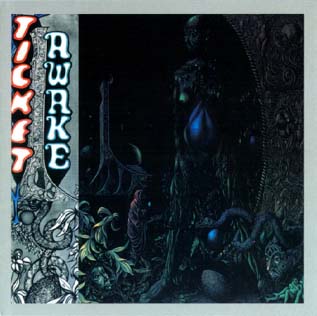 Personnel:
Ricky Ball - Drums
Eddie Hansen - Guitar
Trevor Tombleson - Lead Vocals
Paul Woolright - Bass

Albums:
Awake (Down Under DL 1502) 1972 - also issued in Australia (Atlantic SD 1008) 1972; CD: Rock In Psych Records, RP300, 2000.
Let Sleeping Dogs Lie (Down Under DL 1503) 1972 - also issued in Australia (Atlantic) 1972.

45s:
NZ:
Country High/Highway Of Love (Ode ODE 24) 1971
Dream Chant (edit)/Awake (Down Under DS 1005) 1972
Then You'll Fly/Stoned Condition (Down Under DS 1007) 1972
Mr. Music/Them Changes (Vertigo 6036 900) 1973
AUS:
Awake/Country Radio (Atlantic 45 10010) 1972
Mr. Music/Let Sleeping Dogs Lie (Atlantic 10021) 1973
This outfit was formed in 1970 in Auckland by former Challenge members Ricky Ball and Eddie Hansen. After making little headway in Auckland, they relocated to Christchurch, where they developed their own brand of acid rock over the next year. Returning to Auckland, they worked the university circuit and opened for Elton John's debut New Zealand show at Western Springs. They also had a spell in Australia before returning to Auckland, where they disbanded in 1972. Ball, Hansen and Woolright all played on Lindsay Marks' eponymous 1973 album.

Their good underground guitar-driven rocker "Highway Of Love" can also be found on "Out From The Cold" (1964 - 72) CD.
Taken from "Dreams, Fantasies and Nightmares" by Vernon Joynson, an extensive guide to Canadian / Australian / New Zealand and Latin American psych and garage music 1963 - 1976.
---