Week of July 27, 2003
Thors Hammer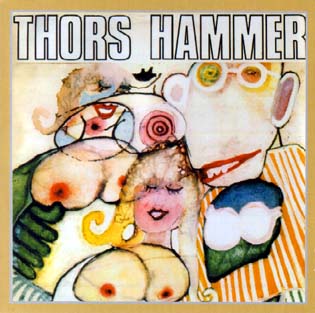 Peter Nielsen - vocals
Michael Bruun - guitar, piano
Jesper Neehammer - saxes
Henrik Langkilde - organ, piano
Henrik Bodtcher - bass
Simon Koppel - drums
They were one of those groups that promised much but never went further than an eponymous debut album. Stylistically, their music was close to Burnin' Red Ivanhoe, Blast Furnace and the jazzy style of bands like Traffic. Neehammer's sax riffing is predominant on the album's five tracks, also frequently augmented by organ and electric guitar. "Mexico" (6:21) is the most effective track (paraphrasing the well-known sax riff from Traffic's "Freedom Rider"), while the longest tracks are less purposeful (due to the slightly repetitive solo sections).

Album:
Thors Hammer, 1971 Metronome 15412
CD reissue: Won-Sin WS885678-2, S.Korea
Also reissued on CD by Crystal Emporium (Cep-013) in 1999, although this is a bootleg.
Taken from Scented Gardens of the Mind - A guide to the Golden Era of Progressive Rock (1968-1980) in more than 20 European Countries, by Dag Erik Asbjørnsen, Borderline Productions, ISBN 1-899855-12-2
---