Week of July 2, 2000
Tempest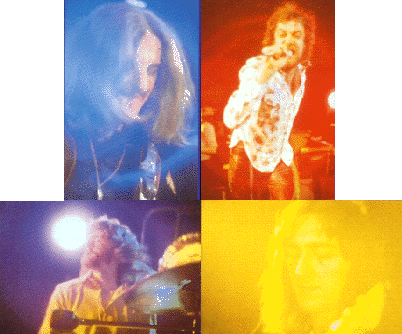 Personnel:
Mark Clarke - Bass
Jon Hiseman - Drums
Allan Holdsworth - Guitar
Paul Williams - Vocals
Ollie Halsall - Guitar
Albums:
Jon Hiseman's Tempest (Bronze ILPS 9220) 1973
Living In Fear (Bronze ILPS 9267) 1974
Both reissued on CD (Sequel NEX CD 159) in 1990; 'Tempest' on Castle Music Ltd. 1999 - CMA CD 515; 'Living In Fear' on Castle Music Ltd. 1999 - ESM CD 724.

Formed by Mark Clarke and Jon Hiseman after the demise of jazz-rockers Colosseum. Their original vocalist, Paul Williams, had previously played with Zoot Money, John Mayall and Juicy Lucy. This line-up recorded 'Jon Hiseman's Tempest' and toured mostly on the continent and opened for Rory Gallagher in the U.S.

Williams left in June 1973 followed by Holdsworth a month later. Holdsworth went on to play for Soft Machine and was later part of Level 42. In the interim Ollie Halsall was brought in on guitar, and their first BBC live performance captured the change in line-up with Williams, Holdsworth and Halsall performing together. Halsall went on to play with John Otway.

Tempest at the Reading Festival in August 1973 and recorded 'Living In Fear' before splitting in mid-1974. A year later Hiseman formed Colosseum II. Earlier, Mark Clarke was briefly in Uriah Heep.

These two albums show Hiseman moving away from the jazz-rock of Colosseum in favour of a sort of less satisfying power rock with Tempest.

Vernon Joynson / Keith Hyman
Taken from The Tapestry of Delights - The Comprehensive Guide to British Music of the Beat, R&B, Psychedelic and Progressive Eras 1963-1976, Vernon Joynson ISBN 1 899855 04 1
Tempest Mk. I was a short-lived supergroup comprising the cream of the post-Cream blues-rock scene in progressive-era Britain. A line-up consisting of Jon Hiseman (drums), Allan Holdsworth (guitar, vocals, violin, ), Paul Williams (guitar, keyboards, vocals) and Mark Clarke (bass, keyboards, vocals) released their eponymous debut album in 1973, before Williams and Holdsworth flew the coop, the latter to join Soft Machine, then Gong and Bruford. Despite the disappearance of two key members, all was not lost for Tempest. Help was at hand in the form of Ollie Halsall (formerly of psychedelic soul troupe Timebox, later of Boxer and The Rutles) who not only handled guitar duties in the studio and in concert (Tempest went down a STORM at the Reading Festival in August 1973) but also contributed several fine songs to 'Living In Fear': "Funeral Empire", live favourite "Yeah Yeah Yeah" (co-written with Jon Hiseman), "Waiting For A Miracle" and the title track.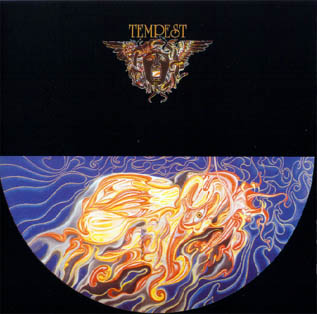 'Living In Fear', like its predecessor a Bronze Records release, was recorded at London's Air Studios exactly one year after those winter sessions for Tempest's debut (although it didn't hit the shops until early '74). The producer was prog scenester Gerry Bron, while the engineer was none other than Geoff Emerick, he of Beatles knob-twiddling fame (coincidentally, 'Living In Fear' features a STORMING cover version of Lennon and McCartney's "Paperback Writer"!) In fact, the original sleeve contained the credit, "Grateful thanks to Geoff Emerick, whose superb engineering left us free to play the music."

And pretty good music it was too. With an emphasis on the writing prowess of newcomer Halsall as well as the well-established Hiseman, the eight tracks trod that ground occupied by contemporary hard-rock groups such as Deep Purple and Black Sabbath, as well as more underground outfits like The Pink Fairies, Blodwyn Pig and the Edgar Broughton Band. Album opener, "Funeral Empire", is based around the pile-dozing pre-metal riff that would do a modern group like Metallica proud. The tricksy riff that starts off "Stargazer" is uncannily similar to Led Zeppelin's "Trampled Underfoot" from 'Physical Graffiti', an LP that would not come out for another year. Were Messrs. Plant and Page aware of Tempest's second LP? It certainly sounds that way!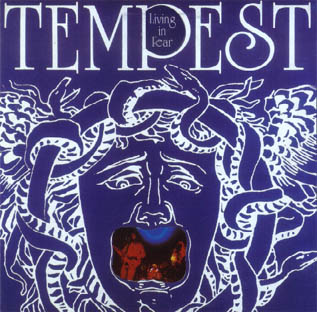 "Dance To My Tune" has the manic pace of Deep Purple's "Highway Star", while "Living In Fear" itself features some blistering Hendrixian guitar playing. "Yeah Yeah Yeah" was infectious enough to have been a hit had it been released as a single. "Waiting For A Miracle" begins folkishly before succumbing to the lure of noise-out. Finally, "Turn Around" showcases Mark Clarke's simple yet inventive bass patterns, Jon Hiseman's startling poly-rhythms and Ollie Halsall's fiery fretwork. Tempest were a power trio too often overlooked in the rush to acclaim Cream and the Jimi Hendrix Experience.

They were hardly around long enough to consolidate their fast-growing reputation, however. By the middle of 1974, Tempest broke up for good, leaving Jon Hiseman to reform Colosseum (albeit Part II) and the rest to pursue various musical projects, enlivening the careers of everyone from John Otway to Rainbow. Still, it was fun while it lasted…

Paul Lester, Associate Editor, Uncut Magazine
Taken from the CD reissue of "Living In Fear" Castle Music Ltd. 1999 - ESM CD 724.
---