Week of September 24, 2000
Tear Gas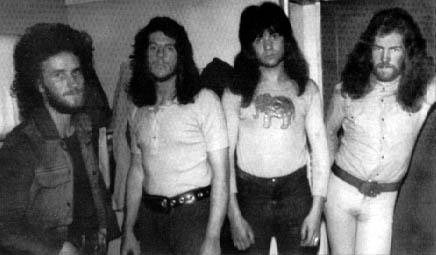 Personnel:
Eddie Campbell - keyboards
Zal Cleminson - guitar
Chris Glen - bass, vocals
Gilson Lavis - drums
Richard Monro - drums, vocals
Andy Mulvey - vocals
David Batchelor - keyboards, vocals
Hugh McKenna - keyboards, vocals
Ted McKenna - drums
Albums:
Piggy Go Getter (Famous SFMA 5751) 1970
Tear Gas (Regal Zonophone SLRZ 1021) 1971

NB: "Tear Gas" reissued on CD (Renaissance RCD 1005) 1993 and also reissued on LP (Fist 'n' Egg FNE 001 LP) 199?, as a limited edition of 1,000; "Piggy Go Getter" reissued on CD (LiMiTed Records LMTRCD06 - bootleg?) 199?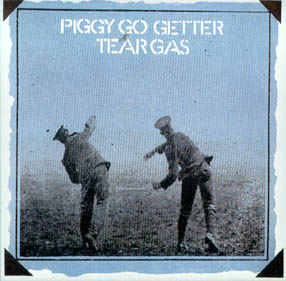 These Glasgow-based progressive/heavy rockers were originally known as Mustard. Their first vocalist Andy Mulvey had previously been with The Poets. However, he was soon replaced by David Batchelor and around the same time Gilson Lavis (their original drummer, who later played with Squeeze) was replaced by Richard Monro from Ritchie Blackmore's Mandrake Root. This line-up recorded Piggy Go Getter, which made little impact. In 1970, Hugh McKenna took over Batchelor's vocal role and Ted McKenna (ex-Dream Police) relieved Monro on drums. They recorded a second album and tried to establish themselves on the underground scene but were going nowhere with their brand of tired boogie heavy rock, until they teamed up with Alex Harvey in August 1972 to become The Sensational Alex Harvey Band.
Taken from The Tapestry of Delights - The Comprehensive Guide to British Music of the Beat, R&B, Psychedelic and Progressive Eras 1963-1976, Vernon Joynson ISBN 1 899855 04 1
---
Back to Alex's Home Page