Week of September 19, 1999
Thunderclap Newman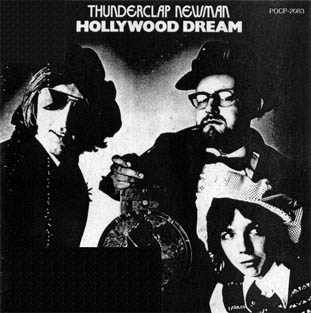 Personnel:
John 'Speedy' Keene - Guitar, Vocals, Drums
Jimmy McCulloch - Guitar
Andy 'Thunderclap' Newman - Keyboards
Jim Avery - Bass
Jack McCulloch - Drums
Albums:
Hollywood Dream (Track 2406 003) 1970
NB: reissued on CD Repertoire (REP 4065-WP) in 1991 and on Polydor (833 794 2) 1991. Later reissued on CD (Touchwood TWCD 2013) 1997 in the States with six bonus tracks: the 45 version of Something In The Air, a shortened version of Accidents and The Reason, along with their 45 'B' sides.
45s:
Something In The Air/Wilhelmina (Track 604 301) 1969
Accidents/I See It All (Track 2094 001) 1970
Wild Country/Hollywood (Track 2094 002) 1970
The Reason/Stormy Petrel (Track 2094 003) 1970
Reissues:
Something In The Air/Other tracks by other artists (PS) (Track 2094 011) 1973
Something In The Air/Fire (Arthur Brown) (Track 2094 017) 1975
Wild Country/Hollywood (PS) (Track 2095 002) 1979
Something In The Air/Accidents (Old Gold OG 9435) 1984
The Who's Pete Townshend put together this group as a studio outfit in the late sixties. Guitarist Jimmy McCulloch was just a sixteen at the time, 'Speedy' Keen was an untried songwriter from the Ealing/Perivale area of London who'd previously been in pre-July act The Tomcats in 1965, as drummer and Andy 'Thunderclap' Newman was a plump ex-post office engineer. The last thing they represented was a slick rock group, but their debut 45, Something In The Air, written by Keen, remains an all-time classic, a wonderfully atmospheric song which superbly captured the changing mood of the late sixties and simply boiled over with optimism. When it rapidly climbed to No.1, Avery and McCulloch's younger brother Jack were rapidly added to the line-up for touring purposes, but after one minor hit with Accidents, further commercial success eluded them and they broke up in mid-1970. Their Hollywood Dream album has become a minor collector's item, but is largely disappointing in comparison to the magic of Something In The Air. It has some good moments: Hollywood #1 has some good honky tonk piano playing; The Reason is certainly one of 'Speedy' Keen's stronger compositions and features a good vocal performance by him and more good piano from Andy Newman; Jimmy McCulloch's instrumental title track is a pleasant little ditty and Wild Country is worth a listen.
Accidents was also included on Polydor's Pop Party sampler in 1970 and their classic Something In The Air resurfaced on Backtrack 2.
Jimmy McCulloch went on to join Stone The Crows and Wings, whilst Newman and Keen both made solo albums but with little success.
Taken from The Tapestry of Delights - The Comprehensive Guide to British Music of the Beat, R&B, Psychedelic and Progressive Eras 1963-1976, Vernon Joynson ISBN 1 899855 04 1
---