Week of June 25, 2000
Silverhead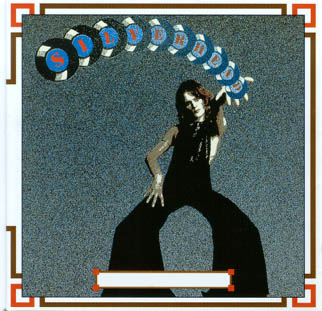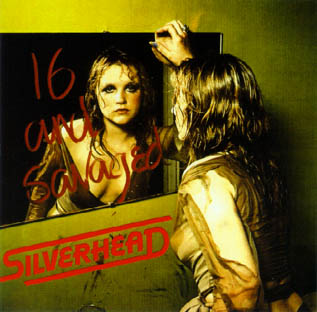 Personnel:

Rod Davies - percussion, vocals, guitar
Michael Des Barres - vocals
Nigel Harrison - bass
Pete Thompson - keyboards, drums
Stevie Forest - guitar, vocals

Albums:

Silverhead (Purple TPSA 7506) 1972 (MCA in the US) - reissued on CD (Repertoire REP 4645 WY) 1997

Sixteen And Savaged (Purple TPSA 7511) 1973 (MCA in the US) - reissued on CD (Line LICD 9000325) 1989 and (Repertoire REP 4646 WY) 1997
Both albums reissued on CD as a CD set, Line LICD 921174, 1992

Live At Rainbow (Purple 80351) 1976 - This was a Japanese release.

45s:

Ace Supreme/Oh No No (Purple PUR 104) 1972
Rolling With My Baby/In Your Eyes (Purple PUR 110) 1973

A competent hard rock band. Their first album includes some diverse influences. There are some boogie-orientated tracks like 'Rock And Roll Band', 'Underneath The Light' (with good twin guitar work) and 'Rolling With My Baby' (which had a brass arrangement). There are Marc Bolan/T.Rex influences in 'Long Legged Lisa' and 'Sold Me Down The River', some Free and Deep Purple influences in 'Ace Supreme', as well as slow and mellow tracks like 'Wounded Heart' or the acoustic guitar-based 'Johnny'. 'In Your Eyes' is slow and mellow, at least in the beginning and in parts predates Steve Harley's (Cockney Rebel) vocal style, but also has some early seventies Mick Jagger/Stones influences too. Michael Des Barres was later in the late seventies hard rock band, Detective. They recorded on Deep Purple's Purple label and their albums were notable for some good guitar leads. (VJ/CA).

Taken from The Tapestry of Delights - The Comprehensive Guide to British Music of the Beat, R&B, Psychedelic and Progressive Eras 1963-1976, Vernon Joynson ISBN 1 899855 04 1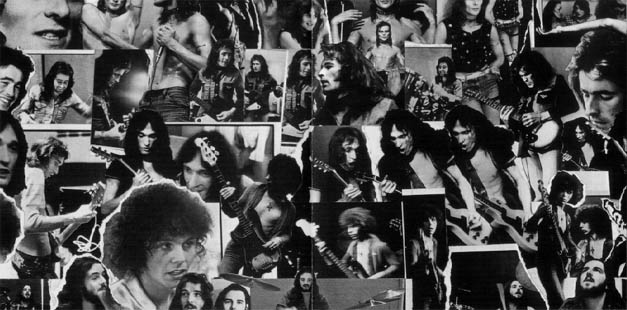 Michael Des Barres was one of the most fascinating and extraordinary characters to grace the Glam Rock era. A man with arresting good looks and a haunted air, he was essentially an actor who plunged himself into the role of pop/rock superstar. It may not have been an Oscar winning performance but he certainly carved out a niche for himself with his band Silverhead, and left a legacy of vibrant, hard edged rock performances.

Apart from his fame as a singer, Michael also gained celebrity through his marriage to one of America's most talked about groupies. Although now separated from her husband, Pamela Des Barres talks fondly about her early encounters and relationship with Michael in her revealing book, "I'm With The Band: Confessions Of A Groupie" (Jove). She called him 'My decadent Marquis' and most pictures of the star show a long-haired man with heavily made-up eyes, clad in tight leather trousers, stripped to the waist and covered in trinkets and jewelry. Behold - the rock god has come! Even during an era which had already spawned Rod Stewart, David Bowie and Marc Bolan, Des Barres seemed an alarming, over-the-top character apparently dedicated to a life of excess and decadence. However, from the evidence of his debut album, Michael took his musical chores seriously. It was just a shame if the rest of the rock industry didn't respond with quite the expected degree of fervour. Silverhead have since been described by critics as "probably the greatest undiscovered glam-pop band of the early seventies." While many lauded their singer's good looks and charisma, and appreciated his vocal powers, it was deemed that the band was probably too heavy for younger fans and not 'street cred' enough for serious rock fans.

If the band failed to break into the big time, it wasn't for wont of trying. Their original 1972 'Silverhead' (Purple) album was presented in a gate-fold sleeve with a classic cover design. This showed a menacing Des Barres strutting his stuff in the largest pair of flared, bell-bottomed loon pants seen in captivity. The inner sleeve had a montage of snapshots of the band posing in their best Hollywood glam style. Lots of pouting and lashings of mascara and lipstick. Interestingly, some of the photos were by B.P.Fallon, the legendary press officer for Marc Bolan and Led Zeppelin who has, in recent years, become a confidante of U2. The band members were all sturdy professionals who gave a good account of themselves and their efforts in the studio were deftly produced for the Purple label by the highly experienced Martin Birch. Silverhead comprised Michael Des Barres (vocals), Nigel Harrison (bass guitar), Stevie Forest (guitar, vocals), Rod 'Rook' Davies (guitar, acoustic guitar and vocals) and Pete Thompson (drums). To boost their sound a brass section was added on some tracks which featured Dave Caswell (trumpet), Lyle Jenkins (sax) and John Mumford (trombone). Keyboards were also used occasionally and there was even a vocal group on hand dubbed The Silverettes. Doubtless the intention was to supply Des Barres with a variety of backings, to give each song a suitably sympathetic treatment. At the same time, the band was allowed sufficient scope to express themselves, notably on the five-minute showcase number, 'Rock And Roll Band'. Many of these performances reflect the prevailing trends of the day and listening to opening cut, 'Long Legged Lisa', is to be reminded of the strength of Marc Bolan's powerful influence. The slide guitar, simple lyrics and breathy cries of 'ooh, aah!' are pure T.Rex. The busy drumming style is also very typical of the early seventies, before drum machines appeared to instill some discipline. But 'Long Legged Lisa' is good fun and has a stronger rock pulse than Bolan might have employed.
An insistent cowbell beat introduced 'Underneath the Light', a Steve Forest composition, and he's responsible for the guitar breaks which reveal the combined influences of Jimmy Page and Jimi Hendrix. 'Ace Supreme' is a song about a 'motor bike lover - ain't no other' which Michael intones with clenched teeth fury. Lines like 'She wiped his kick start clean' are pure Spinal Tap.

'Johnny' is a Des Barres composition which starts with acoustic accompaniment and goes on to tell the tale of a bold young killer. The backing swings into a country groove and the cowboy ballad style is the sort of thing Jon Bon Jovi would specialise in many years later.

On 'In Your Eyes' Michael switches to Mick Jagger mode for a slow country rocker, while 'Rolling With My Baby' has the brass section in full cry - in the next room. Seventies style mixing didn't go much on 'presence'. You stay in your track, and I'll stay in mine! It's a lively piece, however.

"You know I hate to see you cry," sings Michael with passion and sincerity on his big ballad number, 'Wounded Heart', which is Silverhead's 'Stairway To Heaven' style production number. 'Sold Me Down The River' sees a return to the Bolan influence in the tiff department, while 'Rock And Roll Band' provides the grand finale with plenty of hot solos for the guitar department. But there is one more surprise to come. 'Silver Boogie' is a fifty-four second encore, which must have been a neat way to finish club gigs as the crowds roared for more and the roadies began chucking guitar leads into flight cases.

Their record label also released a seven-inch version of 'Ace Supreme', coupled with 'Oh No No No' in 1972, which is included on this CD, together with various outtakes. Alas, the band were unable to score any chart hits.

Silverhead recorded one more album, '16 And Savaged', in 1973 when guitarist Robbie Blunt replaced Steve Forest. After this release the band broke up, and the mascara scarred members went their separate ways heading for the dark, unknown abyss of the late seventies.

Nigel Harrison went on to play with Nite City and the more successful Blondie.

Michael Des Barres joined a group called Detective which sank into obscurity. He recorded a solo album in 1981 and then joined Power Station when he replaced vocalist Robert Palmer and toured with the band in the summer of 1985. Another solo album followed in 1986 and since then he has concentrated on acting on TV and in movies and has appeared in two sci-fi horror films, 'Nightflyers' and 'Ghoulies.' On the original sleeve for 'Silverhead' there is a little message which says, 'May You Come Forever'. A rather challenging task, but one that summed up the good time philosophy of this crew of merry glamsters and their hedonistic leader.

Chris Welch, London 1997
Taken from the CD reissue of 'Silverhead', Repertoire REP 4645 WY, 1997
---