Week of July 14, 2002
Rainbow Theatre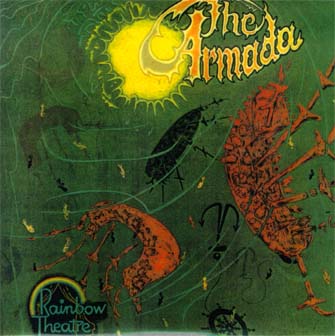 Personnel:
Julian Browning - guitars, keyboards
Graham Carter - drums
Matthew Cozens - piano, organ
Frank Graham - trumpet
Keith Hoban - vocals
Ferg McKinnon - bass
Don Santin - brass
Album:
The Armada (Clear Light Of Jupiter CLOJ 778) 1975
(CD: Aztec Music to be released, Australia, 2006)
Fantasy of Horses (Clear Light Of Jupiter CDOJ783) 1976
(CD: Aztec Music AVSCD011, Australia, 2006)
45:
The Darkness Overture/Petworth House (Clear Light Of Jupiter CLOJ 8) 1975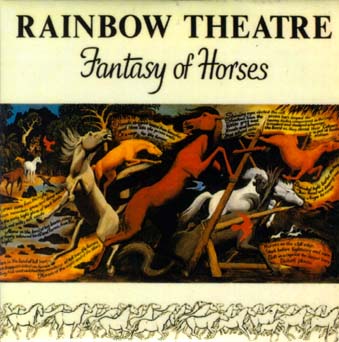 A classically-influenced rock group from Melbourne. Led by guitarist Julian Browning, they recorded The Armada, an adventurous debut ranging from classical and operatic-styled music (Petworth House and the title cut) to slick jazz-rock (the four-part fourteen-minute Darkness Overture) before signing to Clear Light Of Jupiter.

The following year, they recorded a second and equally interesting album, A Fantasy Of Horses. The seven part title track was a beautiful progressive piece. The basic rhythm section was supplemented by entirely new horn, string and woodwind sections for this recording.

(Ian McFarlane/Vernon Joynson)
Taken from "Dreams, Fantasies and Nightmares" by Vernon Joynson, an extensive guide to Canadian / Australian / New Zealand and Latin American psych and garage music 1963 - 1976
---
Julian Browning (Rainbow Theatre) - 17 May 2006
Interviewed for ProGGnosis by Nuno
Julian Browning was the front man for the 70's Progressive Rock Band from Australia – Rainbow Theatre. This project recorded and released two excellent albums back in the 70's. Until now they hadn't been released in CD format, but the great success of the vinyl bootleg that has been circulating on the internet finally raised some interest on these albums re-release. Julian Browning himself has been greatly surprised with the discovery that Rainbow Theatre's is still a much appreciated band after all these years. After the re-release of "Fantasy of Horses", it's just time for an interview with Rainbow Theatre brainchild: Julian Browning.
ProGGnosis: Hi Julian, great to have this conversation with you. Please tell our readers a bit about Rainbow Theatre's story
JB: We were an Australian prog rock band of the 70's. Many have found it hard to describe us, we were classically influenced and as much a progressive jazz band. King Crimson and YES were certainly our first main influences though I think we found a way of doing things which was unique to us. We did two albums "The Armada" and "Fantasy of Horses". These were first released on vinyl and exported to Europe and the US in the 70's. Since then they have been bootlegged by German and Japanese companies. April this year (2006) Australian company Aztec Music reissued Fantasy of Horses from the original master tapes.
ProGGnosis: How did this opportunity for re-releasing "Fantasy of Horses" surged?
JB: I do not like to express gratitude to pirates yet it is a fact that the bootlegs did sustain and renew interest in Rainbow Theatre; though prices for the vinyls have been quite high on eBay. Aztec Music are reissuing a number of Australian bands which have been bootlegged. Aztec wants the world to hear how these bands should truly sound and make them again Australian owned.
ProGGnosis: How do you feel about the result?
JB: The result is truly fantastic. The remastering from original masters was engineered by Gil Matthews who was the original engineer of "Fantasy of Horses" at the time. He is also head of Aztec. Label manager Ted Lethborg and associate Glenn Terry of Vicious Sloth Collectables have done a magnificent job with this production. The presentation is 6 panel digipak with liner notes by music historian Ian McFarlane who tells the Rainbow Theatre story.
ProGGnosis: Are there any plans to release also "The Armada"?
JB: "The Armada" is due for release in September (2006). Also by Aztec Music in 6 panel digipak, liner notes by Ian McFarlane and remastered by Gil Matthews. I am so looking forward to this reissue, the original vinyl pressing was poor, I think we will at last hear this album as it should be.
ProGGnosis: How do you feel about discovering that your music is still much appreciated by today's Progressive Public?
JB: I am now reunited with four other members of Rainbow Theatre and we are all ecstatic that our music is still enjoyed. The remastering reminds us of exactly how it sounded at the time. Playing in a band with such fine musicians was a great experience. We all believe our music still stands up well today, yet of course we are some what biased!
ProGGnosis: How did you become aware of this new wave of Progressive Rock fans and scene?
JB: After Rainbow Theatre I was more interested in classical music, yet in 2004 my wife Helen said "why don't you put Rainbow Theatre into Google and see what happens". I nearly fell off my chair. I thought our music was lost and forgotten. Since then it has been a very rewarding experience making contact with many people around the world leading to the reissues. The progressive rock renaissance on the internet is truly awesome. The enthusiasm of these musicians and fans is inspiring. Prog rock is an exciting genre with still so many new adventures in music to explore.
ProGGnosis: After the Rainbow Theatre project you continued related to the Musical World, yet in a very different path. Can you tell us a bit about that?
JB: At this time my love for the symphonic music of Mahler, Richard Strauss and Sibelius took my interest. Being a builder I built a house in the Dandenong Ranges, east of Melbourne, next to the Olinda Forest. It was a great place for composing and learning more about music. From my view I could watch eagles flying over Olinda Forest. This inspired a work called "Eagle Odyssey" from my 3rd Symphony. A performance of it by the Melbourne Symphony Orchestra is included on "Fantasy of Horses". It was conducted by my friend and music teacher the late Keith Humble. Through these years I did occasionally play rock/jazz guitar at pub jam nights, piano recitals and conduct. Though most of my musical focus was with composition.
ProGGnosis: Classical Music influences were very obvious in your work with RT. How can you classify that connection, and how do you feel these two worlds connect?
JB: This is a fascinating process. Of course the original prog rock bands King Crimson, YES and ELP had the audacity to draw on classical influences very directly. I remember some classical writers declaring them "barbarians", "diletantes" and "heathens" at the time. These bands simply inspired me to do as I wished at the time; so long as their was a good artistic reason for it. I know many classical musicians and quite a few talk of the "living in the past" feeling which can make their efforts stuffy and claustrophobic. Classical musicians envy the freedom and flamboyance of the prog muso and of course the prog muso can improvise! Classical performers and conductors are always trying to revitalize the works of classical masters and the GREAT ones are able to make a work written centuries ago sound fresh; like it was written yesterday. From listening and learning over years I now see in what we call "classical music" an endless revolution of process. I also see the prog muso is in fact a part of this, despite them having their own planet. The irony is a prog musician resembles a young Beethoven,Bartok or Stravinsky: fiercely independent in spirit and always seeking some new adventure in music.
ProGGnosis: What next? Any plans for the future?
JB: Reconnecting with band members over the last year or so has been a pleasure. Despite some occasional contact we have led separate lives. A geography teacher/author of two published novels Ferg McKinnon bass, Mechanic/engineer/lecturer Graeme Carter Drums,Lawyer with his own practice Keith Hoban vocals, Mechanic and 1st trumpet for the Hawthorn Symphony Frank Graham, I'm a builder and had my own building industry marketing/market research company. Despite this we've all remained intensely musical over the years. We are now doing a lot of talking and the feeling is we would love to do another Rainbow Theatre album as original core members with friends. So I hope this can be possible.
ProGGnosis: Any final words for our readers?
JB: I hope progressive rock listeners will enjoy the Rainbow Theatre reissues. The remastering now presents them as they should really sound, a lot better than the bootlegs.
---
Review by Nuno, published on: 29 Jun 2006
Though Australia is most known, in terms of Progressive Rock releases, for the absolute masterpiece Four Moments by Sebastian Hardie, there is at least one other album of the highest quality caliber that has, somehow, strangely been living in the alleys of (mild) oblivion. I am talking about Fantasy of Horses by Rainbow Theatre (their second album)! The awesome news is that the album has finally been remastered from the original master tapes and re-issued by Australian label Aztec Music, in a luxury digipack and with exquisite artwork. The album also includes a bonus track played by the Melbourne Symphony Orchestra, written and conducted by Rainbow Theatre's frontman - Julian Browning.
Originally with only 4 tracks (two long opus and 2 other smaller tracks), this album has the particularity of really touching all the right buttons of Neo-Classic, Symphonic Prog lovers who like some hints of thoughtful jazz in their diet. Its musicality is something that just shouldn't be ignored, especially for the perfect combination of operatic male vocals (close to Tenor) and the complete orchestral ensemble that conjures the resulting sound.
The fact is that this album is one of the best achieved and better constructed Progressive Operas ever released, especially when it comes to the 2 longer tracks in the album. The acoustic piano, sometimes close to the works of classical composers such as Stravinsky and Wagner, is perfectly combined with a thoughtful wind and metal section, with a rare sense of beauty and perfect interplay. The string arrangements are thrown in the mix to form an even tighter body of work. Rebecca and Caption for the City Night Life are set on the progressive jazz/rock side of the band, while doing it with orchestral instruments, which adds loads of originality to the result. The multi-movement Dancer then introduces and adds the classical and symphonic virtues to that jazzy feel, enthralling the listener in a maze of combined styles in a not only refreshing but also surprising effect. The operatic singing appears for the first time in the album, creating a whole new atmosphere that is accompanied by delightful minor-key classic music. This approach is then further explored to perfection in the 16+ minute opus Fantasy of Horses, which just lets the listener in a pavlovian state…earning for more. And unfortunately the wait is now up to 30 years…
While incorporating totally operatic and classic fixtures, there is no doubt ever that this is a Progressive recording, due in great part to the rhythmic section provided by the amazing drum and bass work, that bases the most complex orchestral combinations. Also the duality between the ethereal Oboe, eerie Piano, and church Organ and the arousing "full band" parts is exquisitely (I must say perfectly) done.
The purest mindblowing 70's sympho prog is entwined with Magma inventive operatic intrusions and careful detailing, occasional Wutemberg pseudo-medieval bridges, Ezra Winston symphonic sensibility, Elizabethan pinches, Jazz Rock attacks, early King Crimson melodic approaches (remember Epitaph and Talk to the Wind) and jazzier sections (reminding Larks tongue… for instance) and a very personal (and simply beautiful) sense of musical perfection.
The bonus track, which has been written by Julian Browning and performed by the Melbourne Symphony Orchestra, shows us how classical music can be so close to progressive rock. This is a totally prog music if you ask me, and if you would just combine the orchestral arrangements with more focused rock instruments, you would have the perfect bridge between the two worlds. This is in fact a great add to the album, and it does not sound dislocated or strangely orphan. It just complements the rest of the music presented originally.
Along with Roberto Cacciapaglia's Generazioni Del Cielo, this Fantasy of Horses is the best (true in a sense) Progressive Rock Opera that has ever crossed this well trained prog ears, and undoubtedly one of the 2 best albums that I know hailing from the Oceania Continent. Just not to be missed! And now, with this great re-issue, there is no excuse anymore to not get acquainted with this album!
---