Week of June 1, 2003
Quicksand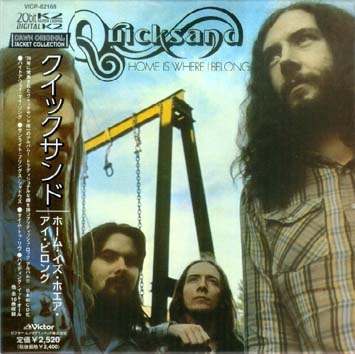 Personnel:
Robert Collins
Jimmy Davies
Phil Davies
Anthony Stone

Album:
Home Is Where I Belong (Dawn DNLS 3056) 1974
Reissued on CD (Si-Wan SRMC 1030) in Korea, K2 (20 bit digital) VICP 62168

45s:
Passing By/Cobblestones (Carnaby CNS 4015) 1970
Time To Live/Empty Street, Empty Heart (Dawn DNS 1046) 1973

Another pair of Davies brothers, but a very different kind of approach. Hailing from Wales, Quicksand played very melodius, guitar-based progressive rock, which is better than many of the sought-after rarities in this field. Though nothing on this record may reach out for the sky, the tight playing, excellent vocals and above all else the exquisite melodies, makes this a worthwhile companion to all the £300+ discs in your collection. Nothing stands really out, but then again, nothing is less than good. Recommended.
Taken from The Tapestry of Delights - The Comprehensive Guide to British Music of the Beat, R&B, Psychedelic and Progressive Eras 1963-1976, Vernon Joynson
ISBN 1 899855 04 1
---