Week of September 14, 2003
Pan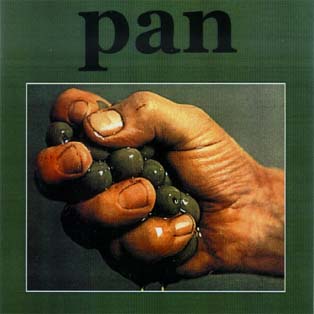 Robert Lelievre - vocals, guitars
Thomas Puggaard-Müller - lead guitar
Henning Verner - piano, organ, vibes
Arne Würgler - bass, cello
Michael Puggaard-Müller - drums
Album:
Pan - 1970 Sonet SLP1518
Reissued on CD by Little Wing (LW 5032) in 1993 (ltd. ed. 1000) and on an unknown label with two bonus tracks, "In A Simple Way", "Ride Across My Bed", NL001.
Robert Lelievre had previously played folk music in the trio Cy, Maia & Robert, while the Puggaard-Müller brothers came from the blues-rock group Delta Blues Band. Their collective past gave no indication of the sophisticated sound of Pan. The band's eponymous album is one of those tightly-arranged and strictly produced efforts, polished to make Lelievre's songs shine. Most of the tracks blend various styles of rock, folk, jazz and small drops of classical and gospel into a strong and potent brew - it strikes me each time I hear it just how homogenous and forceful it is. Knowing the entertainment business, it will come as no surprise that such an intelligent and emotional album met little commercial success. Disenchanted, the group broke up within months. Robert Lelievre attempted to establish a solo career but Sonet left a completed 1971 album unreleased. It was scheduled for release in 1980 on Sonet's series of double album re-issues (coupled with the Pan album), but this re-issue programme was terminated due to low sales, and it didn't make it onto vinyl this time either. This is symptomatic for a man who'd had plenty more bad luck in the past. After his 1968 album with Iain Campbell, he had completed an album (helped by Brian Auger and John McLaughlin, amongst others) for Giorgio Gomelsky's Marmalade label. For unknown reasons, it was never released. Lelievre committed suicide in Copenhagen 26th August, 1974. An ignorant world lost one of the most talented songwriters of his generation.
Taken from Scented Gardens of the Mind - A guide to the Golden Era of Progressive Rock (1968-1980) in more than 20 European Countries, by Dag Erik Asbjørnsen, Borderline Productions, ISBN 1-899855-12-2
---