Week of March 9, 2003
Osage Tribe
Lineup:
Marco Zoccheddu - guitar, keyboards, vocals
Bob Callero - bass, vocals
Nunzio Fava - drums
Franco Battiato - VCS 3 synthesizer

Album:
Arrowhead - 1972 BLA BLA BBL 11052
Reissued on CD by Vinyl Magic (VMCD037) in 1994 including 2 bonus tracks.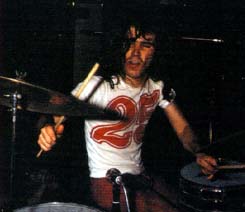 Here we are talking about real underground heroes again! Osage Tribe can be seen as the Italian equivalent to the German group Jeronimo, as they both incorporated melodies from the North-American Indians into their own music (Osage Tribe on their tracks "Un Falco Nel Cielo" and "Hajenhanhowa"). They only left us one album, but this is a superb example of powerful and versatile musicianship. The first minutes of "Arrow Head" sounded more like Battiato's album, with spacious gongs, cembalo, bass and vocals. Indeed, Battiato co-wrote this track with Zoccheddu. After 5 minutes, this gives way to a powerful rock song with an instantly memorable chorus.

The tracks "Arrow Head" and "Soffici Bianchi Veli" were bona fide complex hard rock in the Cream vein with three berserk musicians, each fighting their own way through some furiously punctuated rhythms. "Cerchio Di Luce"'s instrumental part also shows some jazz influence, comparable to the early Ten Years After's merging of blues, hard-rock and jazz. The album is a classic among the heavier progressive rock albums from Italy!
Taken from Scented Gardens of the Mind - A guide to the Golden Era of Progressive Rock (1968-1980) in more than 20 European Countries, by Dag Erik Asbjørnsen, Borderline Productions, ISBN 1-899855-12-2
---