Week of September 29, 2002
Nosferatu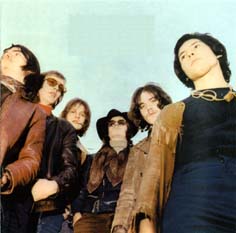 Personnel:
Michael Thierfelder - Vocals
Michael Win - Guitar
Michael Meixner - Guitar, Bass
Christian Felke - Sax, Flute
Reinhard Grohe - Keyboards
Michael Kessler - Bass
Byally Braumann - Drums

Album:
Nosferatu (Vogue 17178) 1970
Reissued in 1992 on CD by Ohrwaschl, OW020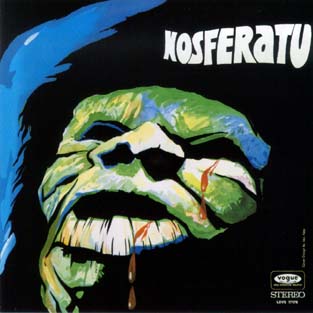 Nosferatu has the dubious honour of having produced one of the most overpriced collector's items of the German progressive rock genre, now selling easily for 800 DEM in mint condition. Originally their album was released in France and Germany on Vogue (a French label).

Nosferatu formed circa 1968. An early member of the band was guitarist Michael Win, a future member of Epsilon. Opinions are mixed about this album. Some regard it as one of the best heavy progressive records to be made in Germany, others think it is quite ordinary and certainly overrated on the collector circuit. I'm sure most will agree that it contains a raw, rough and heavy progressive style. There were still some beat and psychedelic elements evident in the music, characteristic of the first wave of German progressive rock in 1969/70. I would compare it to the first Tomorrow's Gift album, Orange Peel or Hairy Chapter.

Arguably, the best moments are Felke's highly talented flute and sax playing. When Nosferatu disbanded, he became a member of Epsilon. There are only six tracks in all, with plenty of organ and guitar work. The production by Tony Hendrik could have been better. A counterfeit of the album appeared in 1989 at a more reasonable price than the originals. If you're keen on heavy progressive rock, go for Armaggedon and 2066 & Then first, check out Nosferatu only if you find you need some more!
Taken from Cosmic Dreams at Play - A guide to German Progressive and Electronic Rock by Dag Erik Asbjørnsen, Borderline Productions, ISBN 1-899855-01-7
---