Week of November 28, 1999
Mogul Thrash
Personnel:
Roger Ball - Sax
Malcolm Duncan - Sax
Bill Harrison - Drums
James Litherland - Guitar
Mike Rosen - Trumpet
John Wetton - Bass
Album:
Mogul Thrash (RCA SF 8156) 1971
45:
Sleeping In The Kitchen/St. Peter (RCA RCA 2030) 1970
A Scottish group earlier known as The Dundee Horns. Ball and Duncan went on to the Average White Band and Wetton to Family. Their album is a brassy progressive offering.
Taken from The Tapestry of Delights - The Comprehensive Guide to British Music of the Beat, R&B, Psychedelic and Progressive Eras 1963-1976, Vernon Joynson ISBN 1 899855 04 1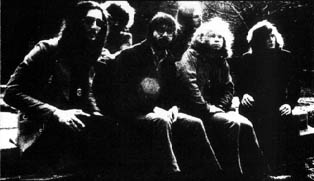 This progressive jazz-rock combo's lone release is largely of interest to John Wetton and Asia fans, as evidenced by mentions of it on various web pages throughout the net. However, it is worth noting that this group may also be of tremendous interest to all British rock, blues and jazz enthusiasts, as it sported a blinding pedigree of musical luminaries of its era. Firstly, jazz keyboardist extraordinaire, Brian Auger, produced and guest-starred on the album; he played piano on "St. Peter". Secondly, saxophonist Roger Ball, later a mainstay in the Average White Band is a well-recognised name on the British session scene, for he has contributed to the recording of albums by such prominent artists as Kiki Dee, Dana Gillespie, Bryan Ferry, Gordon Giltrap, Vinegar Joe and more. John Wetton, of course, went on to find fame and glory with such noteworthy rock acts as Roxy Music, Family, Uriah Heep, Asia, King Crimson, Wishbone Ash, and so forth. Guitarist James Litherland's name instantly brings to mind 70s jazz-rock giant Colosseum, although he's also recorded with Long John Baldry, Bandit, Alexis Korner and Leo Sayer.
The band's sound was primarily brass-driven and very jazzy, akin to the likes of Colosseum, Keef Hartley Band, If and others in the same vein; it was also greatly reliant on guitar and saxophone jamming, which has been, in turn, responsible for many a goosebump tingling down the spine of any serious prog-jazz nut worth his salt (including yours truly), over the years... Not to be missed!
Alex Gitlin
---