Week of December 24, 2000
Mike Heron's (Reputation)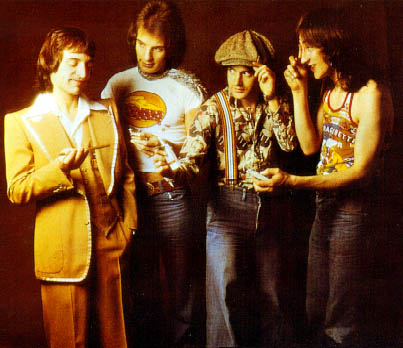 Personnel on "Mike Heron's Reputation":
Duncan Browne - Guitar
Graham Forbes - Guitar
John Gilston - Drums
Barry Lee Harwood - Guitar
Mike Heron - Vocals, Guitar, Keyboards
Tim Hinkley - Keyboards
Eddie Jobson - Violin
Benny King - Percussion
Krysia Kocjan - Vocals
Malcolm Le Maistre - Vocals
Ronnie Leahy - Keyboards
Melanie - Vocals
Amin Mohammed - Bass
John Mulkey - Bass
Ulf Ronquist - Guitar
Melanie Safka - Vocals
Linda Thompson - Vocals
Richard Thompson - Guitar
Susie Watson-Taylor - Vocals
Robin Williamson - Vocals, Whistle
Roy Yeager - Percussion
Albums:
Smiling Men With Bad Reputations (Island ILPS 9146) 1971 - reissued on CD (Island IMCD 129) 1991
Mike Heron's Reputation (Neighbourhood NBH 80637) 1975 - reissued on CD (Unique Gravity UGCD5606) 1996
45s:
Call Me Diamond/Lady Wonder (Island WIP 6101) 1971
Evie/One Of The Finest (Neighbourhood NBH 3109) 1975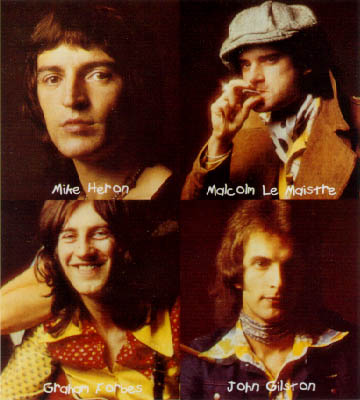 Mike Heron, who'd started out in The Saracens (harmony pop), The Abstracts (Stones/R&B type combo), Rock Bottom and The Deadbeats (art rock), was one of the founder members of The Incredible String Band and indeed he recorded "Smiling Man With Bad Reputations" whilst still with the band and in some respects it marked a return to the exuberance of the early Incredible String Band albums. Upon the demise of that once legendary aggregation, Heron retained three members from the band's final line-up, plus Barker and Tomich and formed Mike Heron's Reputation, whose music veered more towards rock than folk, but after an album and a 45, the combo quickly fell apart. He went on to record a number of solo albums but failed to achieve the success he enjoyed in his heyday with The Incredible String Band.

Mike Heron's Reputation can also be heard playing "Feast Of Stephen" on Island's "El Pea" compilation.
Taken from The Tapestry of Delights - The Comprehensive Guide to British Music of the Beat, R&B, Psychedelic and Progressive Eras 1963-1976, Vernon Joynson
ISBN 1 899855 04 1
---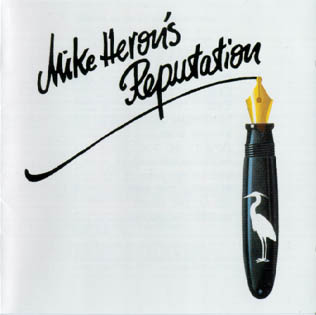 In my own write:
One of those mid-70s, hidden gems, "Mike Heron's Reputation" is primarily notable for the inclusion of Eddie Jobson on violin (UK) and Tim Hinkley on keyboards (Jody Grind, et.al.) It rolls merrily as any ballad-ridden Eltonesque folky British "soft-rock" period album should, with Mike's Art Garfunkel-like lead vocals being the main attraction. Well instrumented and arranged, too.

"Singing The Dolphin" was covered a year later by Manfred Mann's Earth Band on their best-selling "Roaring Silence" album.

The preceding album, "Smiling Men...", featured at least two members of The Who, Keith Moon and Pete Townshend.

Alex Gitlin, December 2000
---