Week of May 29, 2005
Methuselah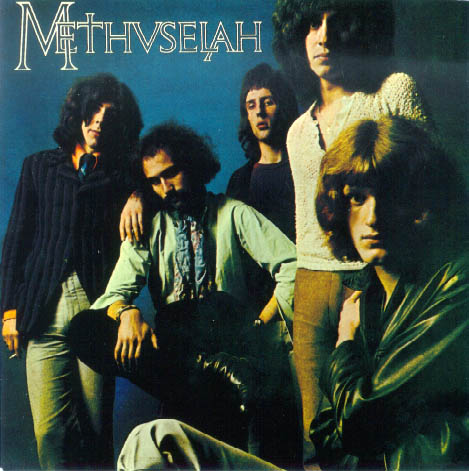 Personnel:
Craig Austin - Bass, Vocals
Mick Bradley - Drums
John Gladwin - Vocals, Vibes
Les Nicol - Guitar, Vocals
Terry Wincott - Guitar, Vocals

Album:
Matthew, Mark, Luke And John (Elektra EKS 74052) 1969
(A second album was also recorded, but remains unreleased)
CD: Lizard Records LR 0715-2

This late 60s group made two albums for Elektra but only the one above, which inevitably is now quite rare and sought-after, was released. The band evolved out of The Dimples/Gospel Garden, with a new drummer Mick Bradley (ex-The Sorrows) and whiz kid guitar player Les Nicol (ex-ABC). The band inherited Gospel Garden's management deal with Steve Roland at Double-R management and scored a three-album deal with Elektra.

Label boss Jac Holzman drafted in songwriter Kenny Young (of "Under The Boardwalk" fame) to produce the first album of Gladwin originals. Inexplicably it was never released in the UK, and when nothing happened in the States, the band recorded the (unreleased) double album. However, by this time "proverbial" musical differences had split the band and the second album was cancelled. The various factions went their separate ways with Mick Bradley joining Steamhammer, Gladwin and Wincott signing with Island Records as Amazing Blondel and Craig Austin and Les Nicol together with (ex-Junior's Eyes drummer Steve Chapman) forming psychedelic trio Distant Jim and later Coast Road Drive.

Methuselah's released album has folk, R&B gospel and even pop influences in its melodies and vocals. The best tracks are 'John', with astonishing guitar leads from Les Nicol; the folky 'High In The Tower Of Coombe'; the gospel-influenced 'My Poor Image' and 'Fireball Woman'. The French children's song 'Frere Jaques' is sung in French at the start and finish of the album, the second time with church choir-like vocals and some jazzy instrumentation in the middle segment.

Compilation appearances have included: 'High In The Tower Of Coombe' on 'Rubble, Vol. 8 - All The Colours Of Darkness' (LP), 'Rubble, Vol. 5' (CD) and 'The Best Of Rubble Collection, Vol. 5' (CD).

Les Nicol also played with other British musicians on the second Pavlov's Dog album.
(Vernon Joynson / Costas Arvanitis w/thanks to Craig Austin)
Taken from The Tapestry of Delights - The Comprehensive Guide to British Music of the Beat, R&B, Psychedelic and Progressive Eras 1963-1976, Vernon Joynson ISBN 1 899855 04 1
---