Week of March 28, 2004
Kahvas Jute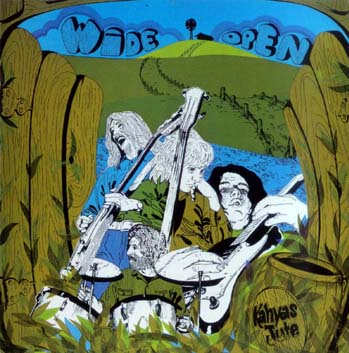 Personnel:
Bob Daisley - Bass
Dannie Davidson - Drums
Tim Gaze - Guitar
Dennis Wilson - Guitar
Scott Maxey - Bass

Album:
Wide Open (Infinity SINL 934030) 1971
reissued on CD and vinyl in Germany (Little Wing LW 4034) in 1994
also on CD: Akarma AK 191, 2002

45:
Free/Ascend (Infinity INK 4289) 1971

A progressive hard rock combo based in Sydney and active between 1970-74. Their album is renowned for the stunning guitar playing of Wilson (ex-Mecca) and Gaze (ex-Tamam Shud) and the strength of the songwriting. The stand-out and longest track is 'Parade Of Fools'. It opens with some pulsating wah wah guitar from Wilson and the band then branch out into a lengthy but wholly effective jam which underscores Wilson and Gaze as one of the great pairings of Aussie rock in this era. Their 45 was taken from the album. Gaze returned to Tamam Shud soon after the album was recorded. The band went on to become one of the finest acts of the era, but they never recorded again. It also made the Top 30.

Maxey replaced Daisley in 1971. 'Free' can also be heard on 'Group Therapy', which was a sampler for albums released by Festival on their new Infinity label in 1971.

After their demise Wilson joined Chariot, Davidson went on to session work and Daisley moved to England and became bassist with outfits like Ritchie Blackmore's Rainbow, Gary Moore Band, Widowmaker and Ozzy Osbourne's Blizzard Of Ozz.
Taken from "Dreams, Fantasies and Nightmares" by Vernon Joynson, an extensive guide to Canadian / Australian / New Zealand and Latin American psych and garage music 1963 - 1976.
---