Week of July 1, 2001
Jonesy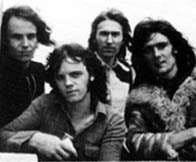 Personnel
Phil Clarke
John Evan Jones - Guitar, Vocals
Jamie Kaleth - Keyboards, Vocals
David Paull - Bass, Vocals
Jim Payne - Drums
Alan Bown - Trumpet, Percussion
Gypsy Jones - Guitar, Vocals
Plug Thomas - Drums, Vocals
Ken Elliot - Synthesizer
Bernie Hagley - Sax
Morris Pert - Percussion

Albums
No Alternative (Dawn DNLS 3042) 1972
Keeping Up (Dawn DNLS 3048) 1973
Growing (Dawn DNLS 3055) 1973
45
Ricochet/Every Day's The Same (Dawn DNS 1030) 1972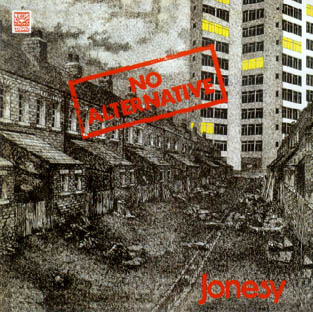 A progressive rock outfit whose albums were reputedly delicate, melodic affairs, somewhat similar to King Crimson and with a lot of mellotrons. "Ricochet", their 45, was taken from the album "No Alternative" and was also included on the "Has It Dawned On You?" compilation. It's a good melodic hard rock number with keyboards, wah wah guitar and a circus music style finale.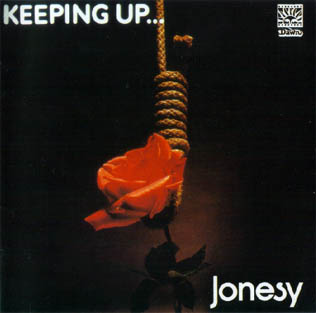 Their "Keeping Up" album is basically of the progressive genre and in parts includes diverse ingredients; violins, harpsichord, harmony vocals and trumpet solos. Of its tracks, "Duet" is more jazz/avant-gardish with strong vocals upon a minimal backing, trumpet a-la Miles Davies and guitar improvisations. Song is a mellow, string-dominated number with a fine melody. The last track, "Children", is probably the best. A good structured, progressive piece with strong vocals, brass, strings, viola and keyboards.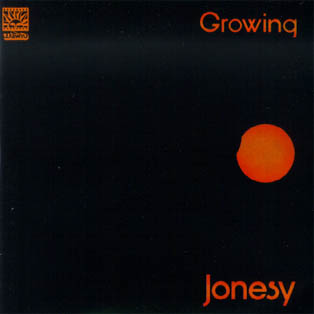 Alan Bown earlier had his own band (the Alan Bown Set) and Morris Pert later made some solo albums and turned to session work, playing with the likes of Caravan, Brand X, Kate Bush, Elvis Costello, Jon Anderson, Bryan Ferry, Peter Gabriel, Peter Hammill, Alexis Korner, etc.
Taken from The Tapestry of Delights - The Comprehensive Guide to British Music of the Beat, R&B, Psychedelic and Progressive Eras 1963-1976, Vernon Joynson ISBN 1 899855 04 1
---