Week of May 13, 2001
Irish Coffee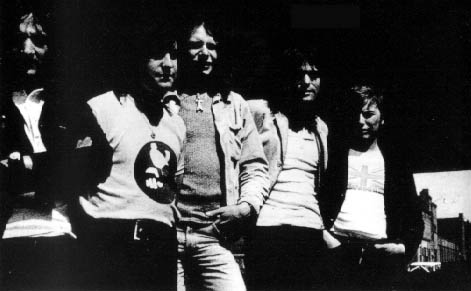 Members:
William Souffreau (vocals)
Willy De Bisschop (bass)
Raf Lenssens (drums)
Paul Lambert (keyboards)
Luc De Clus (guitar)
Albums:
Irish Coffee (Triangle, 1972)
Singles:
Masterpiece / The Show (Triangle, 1971)
Carry On / Child (Triangle, 1971)
Down Down Down (Triangle, 1972)
Witchy Lady / I'm Hers (Barclay, 1973)
Early 70s Belgian hard rock group in the style of Black Sabbath.

Originated from another formation called The Voodoos. This heavy band made the region of Aalst 'unsafe' in the early sixties by introducing American rock'n'roll. They also performed Cliff Richard and the Shadows covers, and later on also the Beatles and the Stones. Member Dirk Dierickx recalls, "The foreign offerings were so good at the time, we hardly ever thought of writing our own stuff".

After The Voodoos' breakup, the majority of the band went on to join Brussel, the backing band for Wim Decraene, and later form Irish Coffee in 1970, with composer William Souffreau. As "Belgian Wit-Lof" acknowledges, it was "one of the best hard rock groups to ever come out of Belgium".

A "Masterpiece", a few other singles and an album later, the group disbanded following the death of keyboard player Paul Lambert. They briefly reformed some time later under the name Joystick.
Taken from the Belgian Pop and Rock Archives
Black Sabbath? I don't think so! They've certainly borrowed the intensity of guitar riffing and some effervescent and very powerful organic passages from Deep Purple, but, by and large, this was a very unique-sounding, imaginative, dynamic, intricate and melodic band, one with a hard-edged yet subtle approach to heavy rock, and it should have lasted much longer than it did and produced many more albums. Bless those folks at Voodoo for the limited (1,500 copies) edition of the original album, featuring faithfully restored sound plus many bonus tracks!
Alex Gitlin
May 2001
---