Week of August 22, 1999
Heads, Hands and Feet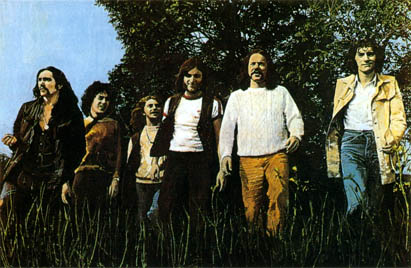 Personnel:
Tony Colton - vocals
Pete Gavin - drums
Chas Hodges - bass
Albert Lee - guitar
Mike O'Neill - keyboards
Ray Smith - guitar
Albums:
Heads, Hands And Feet (Island ILPS 9149) 1971
On The Tracks (Island ILPS 9185) 1972
Old Soldiers Never Die (Atlantic K 40465) 1973
"Heads, Hands And Feet" reissued on CD (See For Miles SEECD 458). "On The Tracks" reissued on CD as Tracks (See For Miles SEECD 459). Also of interest is "Home From Home (The Missing Album)" - (See For Miles C5CD 633). This is a CD of previously unreleased recordings, made in 1968 before they signed to Capitol Records.
45s:
Warming Up The Band/Silver Mine (Island WIP 6115) 1971
One Woman/Dirty Heavy Weather Road (Atlantic K 10292) 1973
Just Another Ambush/I Won't Let You Down (Atlantic K 10312) 1973
Reissue:
Warming Up The Band/Silver Mine (Island WIP 6319) 1976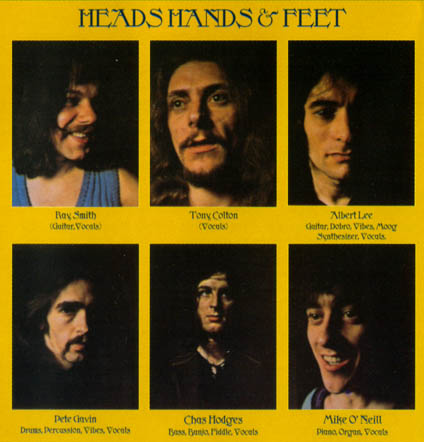 Fomed in 1968, they initially started with a repertoire of folk, soul and R&B. However it took a couple of years for the band to gel with Colton, Gavin, Lee and Smith playing in Poet And The One Man Band around the same time. Upon the later's demise, they joined forces with Hodges and O'Neill to form Heads, Hands and Feet in 1970. Their debut album was issued as a double set in the US but as a single album here. It comprised a sort of country-influenced music which met with some critical acclaim. The follow-up, Tracks, made after Mike O'Neil had left, veered more towards rock than country but the group was by now plagued with interpersonal conflict and disintegrated before their final album was released.
Albert Lee later formed The Albert Lee Band, which included Gavin and Hodges. Hodges, incidentally, became half of the Chas and Dave duo and Albert Lee later played with Eric Clapton.
Back in 1971, they could also be heard singing Song For Suzie on Island's El Pea compilation.
Taken from The Tapestry of Delights - The Comprehensive Guide to British Music of the Beat, R&B, Psychedelic and Progressive Eras 1963-1976, Vernon Joynson
ISBN 1 899855 04 1
---
At the dawn of the 1970s, American record company executives were rushing to sign up British rock bands with a haste and optimism reminiscent of gold prospectors racing to the Klondike. If you had long hair, played in a guitar band and spoke with an accent from this side of the Atlantic, you would have little problem getting an American deal. And the reasons are obvious. Britons could do no wrong as far as US album buyers were concerned. The list of UK acts who made the American album charts in the first 18 months of that decade reads like a who's who of British rock: Badfinger, Ginger Baker, The Beatles (individually and collectively), Black Sabbath, Eric Burdon, Eric Clapton, Joe Cocker, Free, Humble Pie, Jethro Tull, Elton John, King Crimson, Led Zeppelin, Dave Mason (both with and without Traffic), The Moody Blues, Van Morrison, Procol Harum, The Rolling Stones, Savoy Brown, Cat Stevens, Rod Stewart (alone and as a member of The Faces), Ten Years After, The Who, even Donovan were all there in the best-sellers lists.
When news leaked out about a debut gig of a brand new British outfit at a London club, some of the biggest names in the US record business hired a 747 between them and flew over in order to be there in the dressing room waving their cheque books around when the band came off stage.
It took Heads, Hands & Feet just one gig to land what was at that time the biggest record advance ever offered to a band - half a million dollars up front. "It was like a flea market," vocalist Tony Colton recalls. "People were trying to sign us up left, right and centre."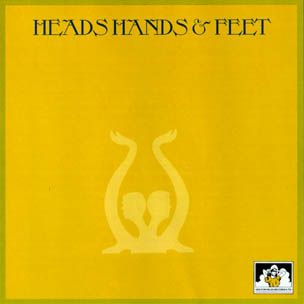 The lure was that for a new band they had quite a pedigree. They had already played on countless hit records. Colton was a top record producer and had been using the band as a recording unit behind other acts on around 20 albums by the likes of Frankie Valli, Wilson Pickett, Jerry Lee Lewis, Delaney and Bonnie and Richard Harris. The Something album by Shirley Bassey, on which they had played, had alone sold five million copies. This was not just one potentially hip new band - behind the image they were also seasoned pros who knew their way around a studio and so were as much of a safe bet as any new act could be. In fact, between them they had musical histories that dated back to the pre-Beatles era of British pop.
Guitar virtuoso Albert Lee had started young and was barely 16 when he toured Scotland as part of the backing band of early Brit rockers like Dickie Pride and Duffy Power. After becoming part of the house band at the famous Two I's coffee bar in London, he played in Hamburg, joined Neil Christian's Crusaders and then Chris Farlowe's Thunderbirds. He had been working as part of the Steve Gibbons Band when he decided to explore country rock.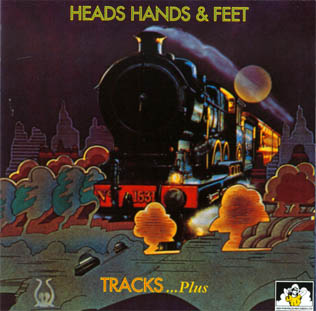 Bassman Chas Hodges can trace his musical history back to a similar period. In 1961, he joined Joe Meek's studio band The Outlaws, John Leyton, Mike Berry and Heinz as well as recording in their own right. After a spell with Cliff Bennet and the Rebel Rousers, he was with the Roy Young Band and then moved on to work on a solo album for Albert when the call came to join Heads, Hands & Feet.
Drummer Pete Gavin had spent the '60s with The Shades, The Shevelles, The Soul Pushers, the line-up of Bluesology which also featured Long John Baldry, Elton John, Marsha Hunt and Elton Dean, and then had been a member of Jody Grind.
Ray Smith and Mike O'Neill (ex-John Barry Seven) had played together in Tony Colton and the Crawdaddies. "All of us in our various bands would meet up in the'60s in The Flamingo Club in London," recalls Tony, "and when I got into producing I started to put together what I thought was the best band in England to back people.
"Over two or three years we worked together regularly on a whole batch of albums and in our down time in studios we started to record an album of our own." Those recordings made by a lineup of Colton, Smith, O'Neill, Gavin and Lee (plus Pat Donaldson and Jerry Donahue) were released under the name Poet and the One Man Band.
Donaldson and Donahue split to join Sandy Denny's Fotheringay (Albert Lee, too, was offered the chance but turned it down). Chas Hodges was brought in as a replacement and the band decided they needed a new name. Pat Gavin chose Heads, Hands & Feet and everything was in place for their showcase debut gig. In the aftermath of that performance, they signed to Capitol for the USA and Island for the UK. "Island didn't really have as much money to offer, but they had a hipper image," says Tony. "Capitol could put up the money but they were part of EMI, and they had Cliff Richard and all those sort of people who were great in their own way but a bit staid for those days. By signing to both companies we got the best of both worlds."
The debut album was recorded as a double, but only released in Britain as a single. Island Records didn't think the market in the UK was strong enough for a double for a first release. The copy you now have in your hands is first time the record has been out in Britain at its intended length.
The band were flown to Hollywood and put on at the hottest club in town, The Troubadour, where everyone who was anyone came to see them. "We were the band of the month, the one that everyone wanted to see," recalls Tony.
But tour commitments in Britain brought them back from the US at a time when they should have been capitalising on all the interest, and with the album failing to produce a hit single, they lost the chance to build on the original impetus. Heads, Hands & Feet were to last for two more albums before personal conflicts between the members brought proceedings to an abrupt halt in December 1972. Ray Smith went back to Wales, Pete Gavin briefly joined Vinegar Joe and then took a job in the construction industry in Salem, Ohio. Albert Lee worked with Joe Cocker, Eric Clapton and Emmylou Harris and became one of Britain's most respected guitar players in America. Chas Hodges is now one half of the cockney rock duo Chas and Dave. Mike O'Neill revived one of his earlier bands Nero and The Gladiators. An Tony Colton saw his career take an unexpected turn for the better when Ricky Scaggs recorded the old Heads, Hands & Feet favourite, Country Boy, in 1984 and it was nominated for a Country Music Award. He moved to Nashville on the strength of the renewed interest in him and has gone on since to write for Celine Dion, Garth Brooks and Trisha Yearwood.
"What amazes me now is how many musicians I find in Nashville who have a copy of our first album in their personal collections and still ask me what happened to the band," he says. "Albert and I still play concerts together sometimes and do the old songs. Those dates always sell out. Looking back we were one hell of a band and on a good night we could blow anybody off stage."
Fraser Massey.
Taken from the CD reissue of the first self-titled album, See For Miles, SEECD458
---