Week of July 23, 2000
Geordie
Personnel:
Brian Gibson - drums
Tom Hill - bass
Brian Johnson - vocals
Vic Malcolm - guitar
Albums:
Hope You Like It (EMI EMC 3001) 1973
Reissued on CD (Repertoire REP 4033-WZ, 1991)
Don't Be Fooled By The Name (EMI EMA 764) 1974
Reissued on CD (Repertoire 4124-WZ, 1991)
Save The World (EMI EMC 3134) 1976
Reissued on CD as part of "A Band From Geordieland" (Repertoire REP4515-WY, 1996)
No Good Woman 1978
No Sweat 1983
Powerhouse "Powerhouse" (Ambush, 1986)
Brian Johnson solo "Strange Man" (1976)
Geordie Featuring Brian Johnson (Redbus RBMP 5001 - vinyl compilation) 1981
Brian Johnson & Geordie "Keep On Rockin'" (Anchor/DCC - U.S. CD compilation, ANZ 700, 1989)
45s:
Don't Do That/Keep On Rockin' (Regal Zonophone RZ 3067) 1972
All Because Of You/Ain't It Just Like A Woman (EMI EMI 2008) 1973
Can You Do It/Red Eyed Lady (EMI EMI 2031) 1973
Electric Lady/Geordie Stomp (EMI EMI 2048) 1973
Rock'n'Roller/Geordie's Lost His Liggy (EMI EMI 2100) 1973
She's A Teaser/We're All Right Now (EMI EMI 2197) 1974
Ride On Baby/Got To Know (EMI EMI 2226) 1974
Goodbye Love/She's A Lady (EMI EMI 2314) 1975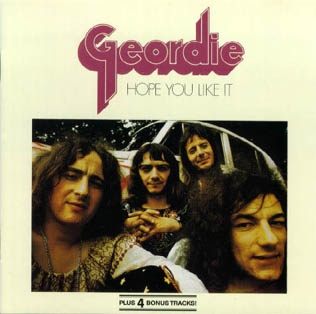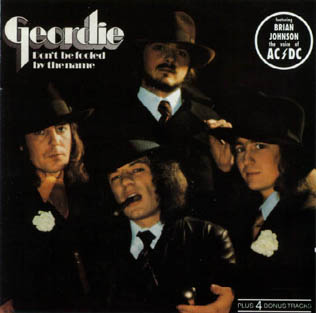 Newcastle Upon Tyne, set in the North East of England, has long been a hot bed of rock talent. Since the early sixties the city has produced many great groups and artists, from The Animals to Sting of The Police. The hard-working atmosphere in this gritty industrial heartland, a centre for ship building, engineering and mining, encouraged a down-to-earth approach to music. So perhaps it's not surprising that some of Britain's toughest blues shouters and rock singers have come from there.

When an American blues man first heard Eric Burdon and The Animals, he said: "Man, them Geordies are really mean - I gotta fight to keep the limelight when they're playing!" A 'Geordie' is the familiar name for the people of Tyneside and their pleasant sing-song dialect. It comes from a 19th century form of the name 'Georgie' - as in George Stephenson, inventor of the locomotive.

When U.S. president Jimmy Carter visited the area, he delighted the population when he revealed that his forebears had been Geordies. Geordie is the proud name for one of the best bands to hail from the region.

However, when the young Newcastle band got together in 1971, they first called themselves U.S.A. and under that name played regularly at local universities and open-air concerts. But it seemed more appropriate to acknowledge their roots and in 1972 they cheerfully changed their name to Geordie.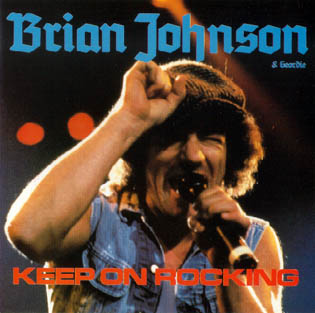 Their lead singer Brian Johnson (born Dunston, October 5,1947) had a voice like tearing sandpaper. This proved a great asset when in later years, he joined heavy metal group AC/DC.

In 1972, Geordie's music veered towards the pop side of metal and they were close to the spirit of bands like Slade. As a result they enjoyed success in the charts that surprised everyone, even themselves.

The full line-up consisted of Brian Johnson (vocals), Vic Malcolm (guitar, vocals), Tom Hill (bass), and Brian Gibson (drums). Malcolm had previously been in such bands as Influence and Smokestack (with John Miles), while Brian Johnson and Tom Hill had been with the group Buffalo.

They quickly developed a powerful and entertaining stage act. One of their most popular numbers was 'Geordie's Lost His Liggie', sung in heavy local dialect.

This involved a lot of audience participation and climaxed with Brian lifting Victor up on his shoulders and carrying him around the stage. Brian would give Angus Young the same treatment in AC/DC.

With their professional stage show and repertoire of punchy songs, the band found themselves much in demand. Remembers Vic Malcolm: "Apart from us there were only three or four other bands getting regular gigs in our area. There were bands that had been around for years, which made us feel even better, as if success had just flown our way."
In March 1972, the band - still then called U.S.A. - went to London to sign a contract with the Red Bus Organisation. Three months later they released their first single, 'Don't Do That' as Geordie. The record crept into the charts on the Regal Zonophone label and got to Number 32 in January, 1973, which caused sufficient interest for the band to be signed by EMI. Their first album was called 'Hope You Like It', which yielded a Top 20 hit single, 'All Because Of You' which got to Number 6 in the U.K. chart in April, 1973. They also had a hit in Europe with 'Ain't It Just Like A Woman'.

For three years the band were constantly in the charts. Geordie enjoyed hits with 'Can You Do It' (June, 1973) and 'Electric Lady' (September 1973), and 'Black Cat Woman' did well in Europe in 1974. Geordie further developed a powerful style on the next album, 'Don't Be Fooled By The Name' (1974). Many of their best cuts are included on this CD which also features material from their last complete album, 'Save The World', originally released in 1976.
The band remained a popular touring attraction throughout the early seventies, but then came the rise of punk and the New Wave, and bands like Geordie were left floundering. With work hard to get, Brian Johnson found himself doing voice-overs for a vacuum cleaner TV commercial. He released a couple of solo albums, including 'Strange Man' (1976). Then came the call to join AC/DC to replace their singer Bon Scott, who had died in London after a heavy drinking bout, in February, 1980.
Brian came into the band four months after Scott's death, and made his debut on the 'Back In Black' album, which went on to sell 12 million copies - considerably more sales than Geordie ever enjoyed. The album went to Number 1 in the U.K. and in Australia and spawned a hit single, 'You Shook Me All Night Long'. Brian Johnson, wearing his famous flat cap and yelling from the throat, showed how tough a Geordie could sing.

In 1982, the old group reformed without Brian, and released a single, a cover of 'Nutbush City Limits' without success. Geordie also unveiled a new album on the Neat label, 'No Sweat' (1983). Then in 1985 they changed their name to Powerhouse and released the album 'Powerhouse' (Ambush) in 1986. It was the end of the line for Geordie but they have left a legacy of excellent recordings which provide a welcome insight into a fascinating era of British rock development.

CHRIS WELCH, London, 1996
Taken from the CD reissue of "Save the World" (aka "A Band From Geordieland"), Repertoire REP4515-WY, 1996
Discography Taken from The Tapestry of Delights - The Comprehensive Guide to British Music of the Beat, R&B, Psychedelic and Progressive Eras 1963-1976, Vernon Joynson ISBN 1 899855 04 1
---