Week of November 24, 2002
Galadriel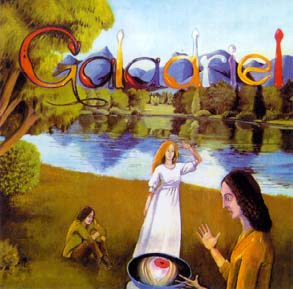 Personnel:
Garry Adams - guitar, vocals
Doug Bligh - drums
Gary Lothian - guitar
Mike Parker - bass, flute
John Scholtens - vocals
Bruce Belbin - bass

Album:
Galadriel (Polydor 2907 001) 1971
(Reissued on CD by Vicious Sloth Collectables in 1995 and by Won-Sin, WS 885 682-2, Korea, 2002)

45s:
Lady Was A Thief/Girl Of 17 (Du Monde DMK-4110) 1971
Standing In The Rain/Working (Polydor 2079 001) 1971

This Sydney band set out playing bluesy hard rock, but their album, which took a year to make was painstaking, experimental and innovative.

Indeed, the Galadriel album is one of the rarest major label progressive releases of the early seventies. As Ian McFarlane wrote in 'Freedom Train' magazine, the material is very diverse, ranging from innovative, psych-tinged songs with lots of fuzzy guitar breaks ('Mind Games', 'One Day To Paradise' and 'She Left Her Love'), bluesy hard rock ('Girl Of Seventeen', 'Amble On'), the country-flavoured 'Lady Was A Thief', jazz-pop 'Such A Fool' and 'Standing In The Rain', a ballad with a flute solo from Mick Parker. The album closes with a short acoustic track, 'Things To Come'.

Prior to the album, earlier versions of 'Lady Was A Thief' and an earlier, lighter version of 'Girl Of Seventeen' had been put out as a 45 on the Du Monde label. Later, two other cuts, 'Standing In The Rain' and 'Working' were put on 45.

As explained in 'Freedom Train', they commenced work on a second album in late 1971. Somehow the master tapes were destroyed and it never emerged, although it was to have included their barnstorming live magnum opus, 'Song For Your Reason'.

Galadriel split early in 1972. Gary Adams and Doug Bligh were later in The Clik. Bligh later drummed for Windchase, playing on their 1977 album, 'Symphinity'.

You can also check out 'Lady Was A Thief' on both 'Unforgotten Hits' and 'So You Want To Be A Rock 'n' Roll Star' (3-CD). The album version of 'Girl Of Seventeen' has also got a further airing on Raven's Golden Miles CD compilation.

(Ian McFarlane/Vernon Joynson)
Taken from "Dreams, Fantasies and Nightmares" by Vernon Joynson, an extensive guide to Canadian / Australian / New Zealand and Latin American psych and garage music 1963 - 1976.
---