Week of June 11, 2000
Freedom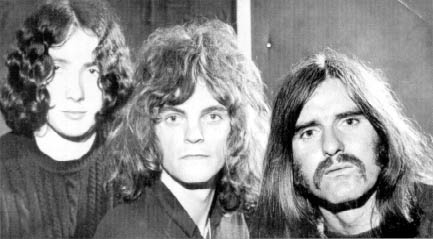 Personnel:
Peter Dennis - vocals, bass, keyboards
Bobby Harrison - vocals, drums
Steve Jolly - guitar
Roger Saunders - vocals, guitar, keyboards
Ray Royer - guitar
Albums:
Black On White - Soundtrack previously only released in Italy as 'Nerosubianco' - Atlantic ATL 08028, 1969; Tenth Planet TP 011, 1994
CD reissue: Angel Air SJPCD028, 1998

At Last - 1969
CD reissue: Angel Air 2CD set - coupled with "Through The Years" - SJPCD027, 1999

Freedom (Probe SPBA 6252) 1970
CD reissue: Angel Air - SJPCD063, 2000

Through The Years (US only) (Cotillion SD 9048) 1971

Freedom: Through The Years (Vertigo 6360 049) 1971
CD reissue: Repertoire REP 4226-WP, 1991; Angel Air 2CD set - coupled with "At Last" - SJPCD027 1999

Freedom Is More Than A Word (Vertigo 6360 072) 1972
45s:
Where Will You Be Tonight/TryingTo Get A Glimpse Of You (Mercury MF 1033) 1968
Escape While You Can/Kandy Kay (Plexium PXM 3) 1969
Frustrated Woman/Man Made Laws (Probe 504) 1970
Thanks/Little Miss Louise (Vertigo 6059 051) 1971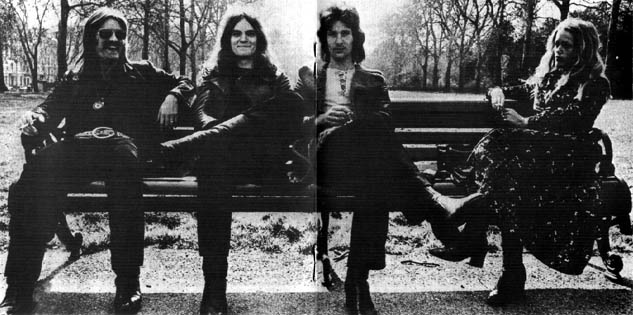 Though the group Freedom is generally considered as a band built around vocalist and drummer Bobby Harrison, it seems appropriate to start these notes by mentioning the group's guitarist, Roger Saunders. In early 2000, Roger's struggle with cancer came to a sad ending and British rock lost an excellent and very underrated guitarist.

I had the pleasure of interviewing Roger Saunders some months before his death and despite his disease found him relaxed and pleasant company, a musician with a fine sense of humour and self-irony. In fact, during the interview there was a knock on the door and, carefully peeping out the window, Roger suddenly whispered in alert: "Trainspotter!". Some poor soul who was apparently haunting the guitarist to get his autograph for the tenth time or ask him what socks he was wearing during the recording of the very album which you are currently listening to (I presume) had managed to track down the whereabouts of his hero and wouldn't leave him alone. Consequently, Roger spent the remaining part of the interview answering my questions from a hiding place underneath the sofa-table!

Roger Saunders (born 9th March, 1947), it emerged, had, as a kid, listened to Duane Eddy, who turned him on to playing the guitar. "I played in local London bands like The Telstars," he told me. "At the same time I also worked in an office in the London docks but I was always taking days off after doing gigs the previous night, so eventually they sacked me. That was when I decided to become a full-time musician."

This was at the height of Beatlemania, and suddenly the possibilities for young musicians to go out and play to enthusiastic crowds were better than ever. The problems was, however, that what people expected was mainly for groups to cover hit parade songs, and Roger wasn't particularly into that form of music.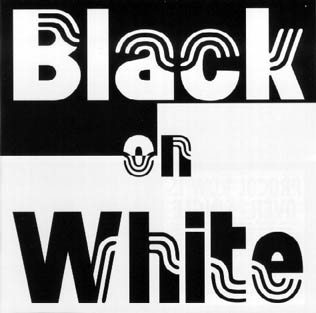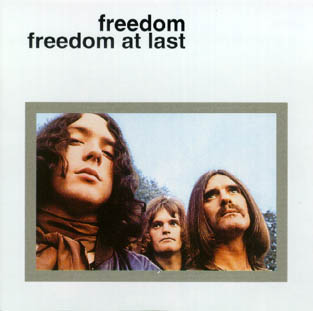 "I was much more interested in blues guitarists, particularly what I call "The three Kings", you know, B.B. King, Freddie King and particularly Albert King. So I decided to form a band playing that kind of music. We were called The Washington DCs and that was where I met Walter Monaghan, who was our bass player and who later followed me into Freedom. The Washington DCs got a recording deal with CBS but we soon landed in disagreements with the label. They only wanted us to record pop singles, which we weren't really into. Nevertheless, we toured a lot in Britain and Europe doing a lot of TV shows. I suppose our greatest moment occurred when we knocked the Beatles off the No.1 slot in 1964 with one of our singles called, "Kisses Sweeter Than Wine". Perhaps I should mention that it happened in Turkey!" When Roger Saunders and Walter Monaghan joined Freedom, the group were already an establish name in the British rock scene. Freedom had initially been formed in late 1967 by two former Procol Harum members, drummer Bobby Harrison and guitarist Ray Royer. For the full history of this early line-up, which also included keyboard-wizard Mike Lease and bass player/singer Steve Shirley, look no further than the sleeve-notes included with Angel Air's compact disc reissue of the group's first LP, the (originally) Italian-only film soundtrack "Black On White". Musically, this was an excellent psychedelia-inspired outfit, but Mike Lease's dissatisfaction with the London hippie scene caused him to leave the group, which carried on with another organ player. However, internal differences were becoming too much for Bobby Harrison in the long run and so, sometime in 1968, Bobby sacked the other group members and decided it was time to start all over again.
He had by then become friends with Roger Saunders. "Roger used to come and watch Freedom play, and he was really into what we were doing," Harrison told me. "So Roger and I struck up a friendship which would carry the two of us through thick and thin for many years up until his recent death. It is painful for me to explain exactly how close we were. Let me just say that though we spent all this time together touring and recording, often under extreme pressures, he and I never ever had an argument or anything like that. He was a very close friend indeed." Bobby Harrison's career prior to his forming Freedom has been delved into on numerous Angel Air releases, most notably his fine solo album "Solid Silver". Suffice to say that Bobby, though often seen mainly as a drummer, is, in fact, a very fine singer and songwriter as well.

The new version of Freedom was a child of its time, stylistically on par with other bands such as Cream. Their first album was called "At Last" and, for reasons best known to the band's management, released in France and Germany only. This album (now also available on CD on Angel Air) still had some inspiration from psychedelia but also gave an idea of what was in store for the followers of the group. The follow-up LP, featured here for the first time on CD, shows a more mature, rehearsed group where a lot of emphasis was put on vocal harmonies.

"We all sang," Harrison said. "We were all lead vocalists, so though we were a three-piece we had a pretty big sound. I would normally sing top voice, with Roger under me and Walter singing the low harmony. It wasn't always like that, but most of the time. As you can imagine it was very hard work. You had to remember all these songs, and not just what you played on your instrument, but all the lyrics and all the vocal parts as well. But I think it paid off and we felt very good about what we were doing."

If anyone should find a certain US West Coast influence on particularly this (eponymous) Freedom album, Harrison would agree. "That was what we were aiming at, I suppose. We were touring a lot in the States at the time, supporting Jethro Tull. They were mega-big there and we did some great gigs with them. Furthermore, we toured on the back of this album in the UK with Black Sabbath and Curved Air."

These were crazy days, as Bobby confirms: "I recall one time when we were driving down the motorway and I was in the same car as Ozzy Osbourne. He wasn't too keen on Sonja Christina from Curved Air. He thought she was a bit stuck-up, you know, and he said he wanted to give her a bit of a surprise. So when their car pulled up on the hard-shoulder he told our driver to pull up alongside. Then he stuck his hand down into his pants and shit in it and threw it onto the window of her car. You could see it sort of sliding down the window. She was lucky she hadn't rolled it down, you might say."

Despite many promises from their management, Freedom allegedly never received the backing they were led to expect, and, adding to the general frustration, Roger Saunders in 1972 signed a solo deal with Warner Records.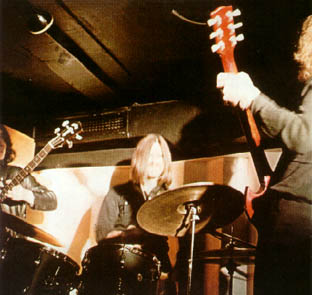 "I did this album called "Roger Saunders' Rush Album"," he said. "That was quite an ironic title, since it took such a long time to make and there was a hell of a lot of work done on the production and arrangements."

A consequence of this was, the Freedom's management now demanded more focus on Saunders, who was given long solo spots during the band's gigs, playing piano and singing on his own. "They had this vision of me being a new Elton John or something. I'd rather have been James Taylor if I'd had the choice!" More changes occurred when the management demanded the bass player be sacked and replaced by Pete Dennis. Some time after, an extra guitarist, Steve Jolly, joined in order to make more space for Saunders' keyboard playing. Around this time, the style of the band seemed to become increasingly "progressive", with a hint of country-rock thrown in for good measure.

After Freedom disbanded in late 1972, Roger Saunders turned to working as a session guitarist. When I talked to him, he could no longer remember all the numerous sessions he had participated in; he'd be often called in and presented with the job on the spot with no time for rehearsal. Nevertheless, he found pleasure in this kind of work which at least provided him with a steady salary, unlike the many years of touring with rock groups. "For the first time in my career as a musician I didn't get any hopes crushed and didn't have to starve!"

During this time, Saunders kept his creative juices flowing by striking up a partnership with Scott English, the famous songwriter. Via this collaboration, Saunders was invited to work with people who were all-time heroes of his, such as The Crusaders, The Three Degrees and The Drifters. Following that, he joined Medicine Head. Throughout most of the eighties, Roger Saunders was to be seen as a member of Gary Glitter's band.

Bobby Harrison's career also went from strength to strength, primarily as the lead singer of Snafu. A solo album, 'Funkist', had been recorded earlier on but didn't see release until 1975. Check the Angel Air catalogue for availability on compact disc of these ground-breaking albums.

After falling in love with an Icelandic woman, Bobby moved to Iceland in the early eighties. Here he met and occasionally joined up with up jazz-rockers Mezzoforte and together they made the aforementioned "Solid Silver" album. Today, Bobby is back in his native Southend-On-Sea in strong form, still playing, writing and gigging.

Freedom were a cult band, never quite making it to the very top of British Rock. It wasn't a question of lack of ability, as much as just sheer lack of luck.

I, for one, am very pleased indeed to see Angel Air take such good care of their wonderful back catalogue!

Taken from the CD reissue of "Freedom", Angel Air SJPCD063, 2000
Discography Taken from The Tapestry of Delights - The Comprehensive Guide to British Music of the Beat, R&B, Psychedelic and Progressive Eras 1963-1976, Vernon Joynson ISBN 1 899855 04 1
---