Week of February 11, 2001
Formula 3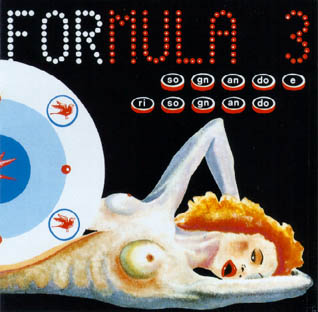 Line-up:
Alberto Radius: guitar, vocals, bass
Toni Cicco: drums, vocals
Gabriele Lorenzi: keyboards, bass

Albums:
"Dies Irae" (1970), Numero Uno - ZSLN 5501
"Formula Tre" (1971), Numero Uno - ZSLN 55013
"Sognando E Risognando" (1972), Numero Uno - ZSLN 55152
"La Grande Casa" (1973), Numero Uno - ZSLN 55655
"Formula 3 1990" (1990), BMG - PD 74588
"King Kong" (1991), BMG - PD 74992
"Frammenti Rosa" (1992), Durium - NDLP 201
45s:
"Questo Folle Sentimento - Avevo Una Bambola" (1969), Numero Uno - ZN 50001
"Sole Giallo, Sole Nero - Se Non E'amore Cos'e" (1970), Numero Uno - ZN 50023
"Io Ritorno Solo - Nananano" (1970), Numero Uno - ZN 50035
"La Folle Corsa (Parte prima e seconda)" (1971), Numero Uno - ZN 50115
"Eppur Mi Son Scordato Di Te - Nessuno, Nessuno" (1971), Numero Uno - ZN 501 17
"Sognando E Risognando - Storia Di Un Uomo E Una Donna" (1972), Numero Uno - ZN 50148
"La Ciliegia Non E' Di Plastica - Cara Giovanna" (1973), Numero Uno - ZN 50303
"Rapsodia Di Radius - Bambina Sbagliata" (1973), Numerc Uno - ZN 50317
"Un Frammento Rosa" A/B (1992), Durium - NDNP 101
In 1969, Toni Cicco (a freelance musician), Alberto Radius (guitarist with various beat groups such as Quelli) and Gabriele Lorenzi (ex-keyboard player in early Camaleonti) formed a trio called Formula 3. The group's idea was to transform long suites of avant-garde music into shorter selections lasting only a few minutes, without falling into the trap of making lower quality, lightweight music which was prevalent on the scene at the time. The trio succeeded in part, thanks to a highly professional musical preparation and to the valuable prior experience of the Mogol/Battisti duo, the 'guardian angels' of Formula 3. In 1969, they released a single, 'Questo Folle Sentimento', a commercial song which became quite successful. The next year, the group's debut album, 'Dies Irae' was ready, featuring tasteful front cover artwork and tracks which were quite avant-garde for that period (e.g. the new version of 'Dies Irae'). Alberto Radius' guitar was featured also on the more commercially sounding cuts written by Mogol and Battisti. It's interesting to note that the song, 'Perche... Perche Ti Amo' was written by the new duo, Bennato/Mogol. In the years 1970-1971, the group released several singles, again achieving a good amount of success, especially with 'Eppur Mi Son Scordato Di Te', while perhaps their best single, 'La Folle Corsa', wasn't received quite as well.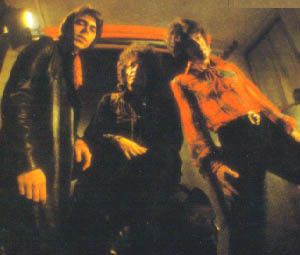 Formula 3's second album was released in 1971: it comprised a selection of songs already recorded by Lucio Battisti such as 'Il Vento', 'Vendo Casa', etc. 1972 saw the release of the group's best work, the 'Sognando e Risognando' album. Battisti's involvement had diminished somewhat by then, while more space was given to classical themes and long-winded suites. The leading instrument remained the electric guitar, played very capably by Radius. Feeling a little inhibited inside this group, he decided to record a solo album of his own, featuring tracks recorded during some jazz sessions with other musicians. In 1972, they participated in the international Rio De Janeiro festival, representing Italy, and winning. The 'Sognando E Risognando' suite, 'Aeternum' (recorded in Rio), following a very positive reaction in Brazil, was released all over South America.
In 1973, the group released their last album before the breakup, 'La Grande Casa'; it was very well packaged (in a lavish gatefold sleeve) but garnered lower sales compared to its predecessors, perhaps because it was too acoustic. Besides this, it was the band's only release not to feature any of Battisti's songs, even though Mogol was still producing the album. The diminishing quality of songwriting of this last record was one of the factors leading to the group's demise. Propositions were made to Radius and Lorenzi to join a supergroup (Il Volo) which Mogol was experimenting with. Toni Cicco (under the pseudonym of Cico) remained on his own and took up a career as a solo artist. Radius followed the suit; today, he plays with the Cantautore Big Band while Cico has been collaborating with Berte. In the 1990s, the group has reformed, releasing five new albums between 1990 and 1994.
Taken from "The Return of Italian Pop" by Paolo Barotto (Vinyl Magic VM201, 8016158220124)
Vinyl Magic/BTF web site: www.btf.it
---