Week of May 2, 2004
Fleur De Lis (Denmark)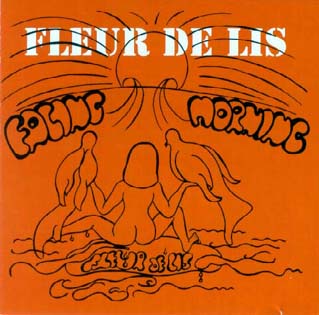 Leif Nielsen - guitar, vocals, clavinet
Bjarne Pedersen - guitars
Peder Pedersen - bass, acoustic guitar
Svend Thomsen - organ
Kaj Olesen – drums

Album:
Facing Morning 1972 Qualisound 403
Reissued on CD by DMA (DK1003) in 1995 with 7 bonus tracks (500 copies), Progressive Line in 2003 – PL546

Something of a legend among hardcore collectors, the original pressing of their album is almost impossible to locate. It was released on the local Aalborg (Northern Jutland) label Qualisound, which in the late sixties released singles by The Hunters and The Stamping Bricks. "Facing Morning" had a sound strongly inspired by the US West Coast sound but with more progressive leanings. As usual with limited pressings (which were often made for demonstration purposes only), the sound quality is rather primitive. All in all the album leaves the impression of unfulfilled promise, although "Home Of Minds" (8:06) rises above the remaining 7 tracks. For completists and fans of Scandinavian underground hippie rock.
Taken from Scented Gardens of the Mind - A guide to the Golden Era of Progressive Rock (1968-1980) in more than 20 European Countries, by Dag Erik Asbjørnsen, Borderline Productions, ISBN 1-899855-12-2
---