Week of April 22, 2001
Fable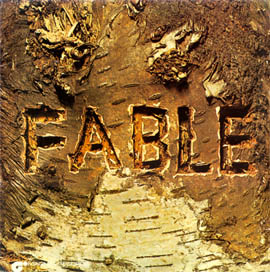 Personnel:
Mac Bailey - guitar
Peter Goalby - lead vocals, guitar, mandolin
Peter Mackie - bass, vocals
Paul Robbins - keyboards, bass, vocals
Keith Tully - drums
Album:
Fable (Magnet MAG 5002) 1974
45s:
See My Face/Thick As A Plank (Magnet MAG 3) 1973
Madolin/Thick As A Plank (Magnet MAG 6) 1974
Motorbike/Gotta Getaway (Magnet MAG 9) 1975
This Wolverhampton band was signed to Magnet in the early 70s - home to Peter Shelley and, more notoriously, glam rock king Alvin Stardust - in fact, its owner!

The album was recorded during August 1973, but not released until 1974. It comprised pleasant, tight melodic rock and was recorded before Mackie and Goalby moved on to Trapeze, the latter appearing on their 1979 "Hold On" album and the 1981 follow-up, "Dead Armadillos", recorded live in Texas. Goalby eventually ended up in Uriah Heep in the early-mid-80s, singing lead vocals on the best-selling "Abominog" (1982), strong and rockin' "Head First" (1983) and the 1985 commercial flop, "Equator", which proved to be this incarnation's swan song.
Alex Gitlin
April 2001
Discography/Personnel taken from The Tapestry of Delights - The Comprehensive Guide to British Music of the Beat, R&B, Psychedelic and Progressive Eras 1963-1976, Vernon Joynson ISBN 1 899855 04 1
---