Week of July 21, 2002
Dragon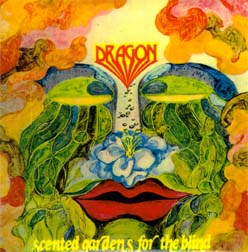 Personnel:
(up to 1975)

Graeme Collins - vocals, piano
Ray Goodwin - vocals, guitar, keyboards
Marc Hunter - vocals
Todd Hunter - bass
Neil Reynolds - drums
Neil Storey - drums
Ivan Thompson - keyboards
Geoff Chunn - drums
Paul Hewson - keyboards
Albums:
(up to 1975)

Universal Radio (Vertigo 6360 902) 1974 (reissued on CD in a slimcase, Venture VVCD 007)
Scented Gardens For The Blind (Vertigo 6360 903) 1975 (reissued on CD in a slimcase, Venture VVCD 011)
45s:
(up to 1975)

Vermillion Cellers/Rock And Roll Ponsonby (Vertigo 6036 908) 1975
Education/Swell Foot Sue (Vertigo 6036 909) 1975

A New Zealand band who came together in Auckland in 1973, although their drummer and guitarist were actually from Wellington. Over the years their music would prove extremely diverse ranging from pop through to rock with traces of reggae and calypso. Certainly, "Scented Gardens For The Blind" is an excellent melodic progressive rock album with appealing vocals and some excellent keyboard and guitar moments. As one would expect, the title cut is the magnum opus with a nice church organ intro giving way to a melodic, keyboard-driven song somewhat reminiscent of Barclay James Harvest.

Heroes in their native land, they later settled in Sydney in May 1975. Three years later, having established themselves as a household name in Australia, they headed for the States.

They went on to record a plethora of albums and 45s in the post-1975 era, enjoying two Top Ten and six Top 50 hits in New Zealand and one U.S. hit, "Rain". They developed a notoriety acquired through deaths and decadence but toured more extensively and attracted more press than any other New Zealand rock band.

Vocalist Marc Hunter died from throat cancer in Sydney, July 1998.
Taken from "Dreams, Fantasies and Nightmares" by Vernon Joynson, an extensive guide to Canadian / Australian / New Zealand and Latin American psych and garage music 1963 - 1976
---