Week of May 26, 2002
Dark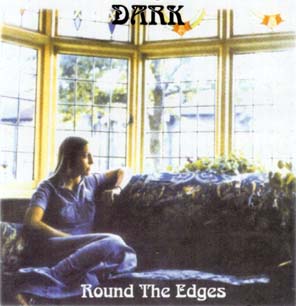 Personnel:
Colin Bush - bass
Steve Giles - guitar
Clive Thorneycroft - drums
Ronald Johnson - bass
(Martin Weaver - guitar)
Album:
Dark Round The Edges (SIS 0102) 1972
Reissued on Swank (250 copies only) in 1990 and on Swank/Darkside 001 (250 copies only) in 1991 with lyric sheet. Also reissued on CD (Kissing Spell KSCD 9204) 1992 with four bonus tracks: "In The Sky", "Wasting Your Time", "Could Have Sworn" and an old version of "Maypole" (which is unlisted). The bonus tracks only feature Steve Giles on lead and vocals, Clive Thorneycroft on drums and a bass player called Carl Bush. Neither Martin Weaver or Ron Johnson feature on these added tracks. Also reissued on vinyl in a repro of the original sleeve in 1998. There have been a number of additional retrospective releases: "Anonymous Days" (Darkedge Records DRCD 2371), is the twenty-five year follow-up to "Dark Round The Edges". Recorded between 1994 and 1996, it features the original band with tracks written both in the '70s and the '90s; "Dark/Tarsus" (Kissing Spell KSCD 9494) features a long jam which the band recorded for their own interest in 1975. It features Steve on lead, Clive on drums, Martin on lead, Ron on acoustic and electric guitars, and a couple of friends on bass and bongos. It is not one of their better jams. It also features a couple of tracks from Tarsus, a local band who disappeared in the early '70s. Their tracks are pretty poor. The Dark Jam has also been issued on CD as "The Jam". Another CD, "Teenage Angst" (Kissing Spell KSCD 9402), 1994, features only Steve of the Dark line-up, and was recorded on amateur equipment in a church hall. From all accounts, it is pretty poor. "Artefacts From A Black Museum (Acme)" is thought to only feature Steve and possibly Clive and is not very good. There is also an acetate single on the New York label in existence. It features Steve Giles on lead, Clive Thorneycroft on drums and Carl Bush on bass. The tracks are believed to be "RC8" and "In The Sky". There are only two copies in existence, and the band have one of them.

This legendary progressive rock band, which was responsible for the UK's most expensive album, was formed by Steve Giles whilst at school in Northampton in 1968. They met local entrepreneur Alan Bowley who'd recently converted a derelict house into a recording studio, and this led to four acetates of "RC8" and "In The Sky".

They performed at a few local gigs, and as their playing got tighter, decided to go into SIS Studios, Northampton, with engineer Alan Bowley, to record an album. The six tracks, written and arranged by the band were recorded over a weekend in 1972 and consist of melodic progressive rock laced with lots of fuzzy guitar riffs. Only a handful of copies were pressed, and Giles, who had a strong interest in photography, made the first twelve copies into full-colour gatefold sleeves, complete with booklets of photographs stapled together, augmented with handwritten notes. They were handed out to band members and their girlfriends! These are now valued at £1,500 by Record Collector who valued copies which came with a black and white gatefold sleeve at £1,350, and those which came in a single black and white sleeve - at £1,200 in their December 1993 issue. A total of 65 copies were reissued in all and each came with a lyric booklet and sold originally for £3!

The band then split with Clive and Martin going their own ways, and Steve and Ron continuing to record for their own pleasure until 1977 when Ron married and moved to Cornwall.

Kissing Spell traced the band in 1991 to tell them the original album was worth a small fortune, and offering to reissue it on vinyl and CD. A re-issue had been done on vinyl in the States, followed by Kissing Spell's efforts. The members then got back together and decided to see if they could still play. Previously unrecorded tracks were dusted off, more material written, and Dark re-entered the studio world in 1994 at Outrider Studios, Northampton, over twenty years after their first outing. A couple of tracks were laid down before the studio went bust, and Dark moved on to Far Heath Studios in Guilsborough, where the album, "Anonymous Days", was completed in 1996. It was issued on CD in a limited edition of 500, twenty-five years after "Dark Round The Edges". Word got around that the band were playing again and offers of live gigs started to come in. They decided to do just one hail/farewell gig, which turned out to be the Northampton Beer Festival, on May 31st, 1997. The local brewery, Frog Island, brewed a special limited edition bottled beer in the gig's honour, which sold for £2.50. The label being a copy of the CD cover of "Dark Round The Edges".

If you want to discover what their music was like, track down one of the relatively recent vinyl or CD reissues of the original "Dark Round The Edges" before investigating any of the plethora of retrospectives.

Kissing Spell, have also, incidentally, issued a CD by Martin Weaver's power trio Wicked Lady, entitled "The Axeman Cometh" (Kissing Spell KSCD 9307) in 1993. Weaver was an ancillary member of Dark.
Taken from The Tapestry of Delights - The Comprehensive Guide to British Music of the Beat, R&B, Psychedelic and Progressive Eras 1963-1976, Vernon Joynson
ISBN 1 899855 04 1
---