Week of May 9, 1999
Chicory Tip
Personnel:
Rick Foster - Guitar
Peter Hewson - Vocals
Barry Mayger - Bass
Brian Shearer - Drums
Rod Cloutt - Lead Guitar, Synthesizer, Organ
Album:
Son Of My Father (CBS 64871) 1972
45s:
Monday After Sunday/Pride Comes Before A Fall (CBS 5056) 1970
My Girl Sunday/Doctor Man (CBS 7118) 1971
Excuse Me Baby/The Devil Rides Tonight (CBS 7312) 1971
I Love Onions/Don't Hang Jack (CBS 7595) 1971
Son Of My Father/Pride Comes Before A Fall (CBS 7737) 1971
What's Your Name/Memory (CBS 8021) 1972
The Future Is Past/Big Wheels Rolling (CBS 8094) 1972
Good Grief Christina/Move On (CBS 1258) 1973
Cigarettes, Women And Wine/I See You (CBS 1668) 1973
I.O.U./Join Our Gang (CBS 1866) 1973
Take Your Time Caroline/Me And Stan Foley (CBS 2507) 1974
Survivor/Move On (Route RT 1) 1975
Son Of My Father/What's Your Name (Old Gold OG 9003) 1978 (Reissue)
From Maidstone in Kent, Chicory Tip are best remembered for their catchy pop song, Son Of My Father, which topped the UK charts for three weeks early in 1972. It also got to No. 91 in the States, where they were known as simply Chicory.
The band was formed by Rick Foster and Barry Mayger in 1968. Their big break came when Son Of My Father, written by Giorgio Moroder, who went on to become a successful disco producer (the synthesizer on the song was played by another future producer, Chris Thomas), latched them onto the glam-rock movement for a few years, but after a couple more hits their fortunes changed. Following the band's breakup in 1973, and up 'til their reformation a couple of years ago, guitarist Rick Foster played constantly with Edison Lighthouse who are still going strong in the Maidstone area as a popular live attraction.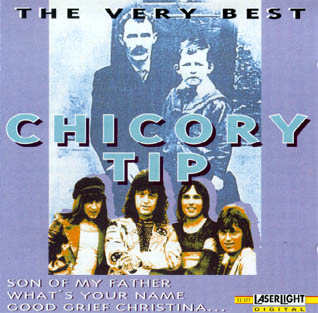 Their better moments have now been compiled on The Very Best Of Chicory Tip (Sounds Media SUMCD 4099). The band still plays at parties and functions all around the country but obviously mostly in the Kent region. They reformed with all the original members, with the exception of Peter Hewson, on January 1st 1997, and appeared on the Clive James Show on 19th July 1999 with Victoria Wood, Liam Neeson and Jeff Green, and are recording for television in Portugal in November 1999.
A brand new CD, featuring all-new recordings, is in the works, due Christmas 1999. Watch this space!
NB: Peter Maffay had a hit in Germany with the German language version of "What's Your Name", retitled as "Wo Bist Du", in the 1970s.
Taken from The Tapestry of Delights - The Comprehensive Guide to British Music of the Beat, R&B, Psychedelic and Progressive Eras 1963-1976, Vernon Joynson ISBN 1 899855 04 1
---
To The Official Chicory Tip Web Site