Week of December 26, 1999
Climax Blues Band (1968-1973)
Many sixties groups were motivated by an almost evangelical zeal to further the cause of one favoured musical form, irrespective of personal popularity or financial gain. Perhaps the most altruistic were The Joystrings, a beat group (just) formed within the Salvation Army to use the Devil's Music to Spread The Word. On more secular crusades were the likes of Liverpool's Chants who specialised in 'doo-wop'; Roy's Boys and The Executives who both persisted with Shadows-style instrumentals, and Shakin' Stevens and The Sunsets who began churning out Teddy Boy rock'n'roll at the eve of psychedelia. Sometimes tenacity was rewarded but it would have been enough for these dedicated combos merely to have had somewhere to play.

The most vital of these minority interests was the blues. Though elderly Mississippi blues grandee Big Bill Broonzy's Kingsway Hall concert in September 1951 marked the British blues movement's sluggish conception, its growth as a bohemian cult only gained ground ten years later, partly through scorn for the hit parade toot-tooting of traditional jazz. Becoming 'rhythm and blues', it was no longer the sole property of arty types by the mid-sixties. Past knotted brow appreciation of baggy-trousered Cyril Davies or mustachioed Alexis Korner, young girls blocked the view for long-time enthusiasts, to scream at The Rolling Stones, Kinks, Manfred Mann, Pretty Things and 'most blues-wailing Yardbirds'; all former patrons of Korner and Davies' celebrated Ealing club.
Provincial strongholds included Birmingham's Rhythm Unlimited club, convened weekly at the Golden Lion - from which sprang the chart-busting Spencer Davis Group. Quite a few straight pop groups in the Midlands traced that R&B scent by ditching stage suits and Beatle winsomeness for denim taciturnity. No more milking their audience with Merseybeat favourites, The Atlantix of Burton-on-Trent, for example, played a farewell booking before reforming the next week as 'Rhythm and Blues Incorporated'. More prosaic still was The Rhythm and Blues Group, all the way from Grantham. Then there were the Boll Weevils from dem ole cotton fields of Erdington, Sam Spade's Gravediggers from Coventry and, from Hereford, The Shakedown Sound - who were to mutate into Mott The Hoople.

Stafford's boss R&B outfit was Hipster Image, led by vocalist Colin Cooper who doubled on guitar and saxophone. Their professional ring of confidence having won them the strongest possible local reputation, the next logical step for Hipster Image was to hurtle shoulder-to-shoulder down the then-unfinished M1 to London and, at the invitation of promoters John and Richard Gunnell, a take-over of Spencer Davis' Thursday night residency at Soho's Flamingo - 'The Swinging Club of Swinging London' - where the bands of Zoot Money, Georgie Fame and Graham Bond were already established. The principally male clientele were prototype Mods who would recognise each other by their clean, short-haired pseudo-suavity and whim-conscious dress sense.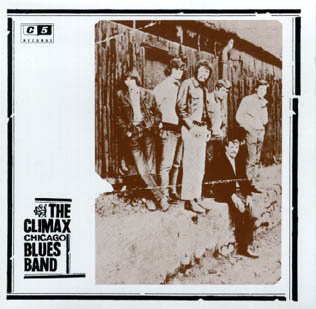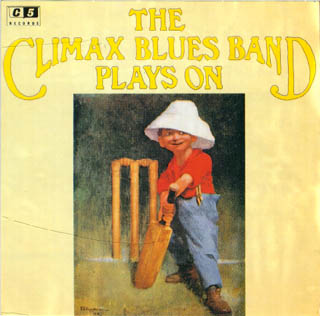 In their own way, Hipster Image were as impressive as Fame, Bond, Davis and Money - mainly through Cooper's rapport with the audience and multi-instrumental talents. He also sang as if he might mean it. If you closed your eyes, you could believe that this youth had truly got the blues from the Chicago ghettos or the chain gang, that he was world-weary, cynical and knowing beyond his years. From this compounded passion, Colin slipped comfortably from raucous lust through lazy insinuation to intimate anguish. In common with Zoot, Georgie et. al., Hipster Image had kept abreast of the latest developments in R&B which often bled into what was fast becoming known as 'soul music'.

It was an atmospheric performance at the Flamingo in 1966 that knocked out Alan Price and Chas Chandler of The Animals. Aided by the Geordies' sincerely loud praise, Hipster Image were able to secure a one-shot single contract with Decca. However, cast adrift on the vinyl oceans, 'Can't Let Her Go' - produced by Price - quietly died, possibly through Decca's tendency to neglect the promotional needs of all but its consistently best-selling acts.

With the sundering of Hipster Image, Cooper returned to the Potteries where, from a mutable pool of local players, The Gospel Truth smouldered into form. At its nucleus were Cooper, drummer John Cuffely (who'd already tasted fame as one of Emile Ford's Checkmates) and Peter Haycock, a gifted schoolboy guitarist and reliable stand-in whenever Cooper's voice needed a rest. Entering the trivial round of parochial engagements, The Gospel Truth went down well enough but were heading for much the same commercial impasse as Hipster Image.

Tired of waiting for something to happen, Cooper and Haycock decided to re-orientate their stylistic determination towards a second wave of British Blues that was fermenting on the college circuit as it had earlier in the decade. Because of a stronger emphasis on albums these days, groups didn't have to balance cash amassed in the singles chart with their self-picture as innovative artists. Blues-based combos like Jethro Tull and Fleetwood Mac had already convinced their fans that Top of the Pops excursions were but superficial tangents to their main body of work.
In their revision of policy, The Gospel Truth - renamed Climax Chicago Blues Band - had cause for optimism, well-placed as they were to capitalize on this high summer of home-grown blues. They now functioned as a sextet; The Gospel Truth duo joining forces with bass player Richard Jones, drummer George Newsome, Arthur Wood on keyboards and second guitarist Derek Holt who also contributed falsetto to Haycock and Cooper's harmonies. While still semi-professional, the group were signed in 1969 to E.M.I. The first two albums were released on the company's Parlophone subsidiary before the transference of the outfit onto the 'progressive' Harvest label for a further hat-trick of LPs. These sold steadily if unremarkably as the band accrued a regular following through a hectic succession of tours in Europe - and, ultimately, North America.
Like Fleetwood Mac, Ten Years After and Jethro Tull, their records explored areas far removed from a blues core. However, on stage, it was very much business as usual - and it was an in-concert double album (in the U.S. only) that changed them from also-rans to contenders in the upper league of the adult-orientated rock hierarchy that had emerged in the States. After 'FM/Live', they moved from supporting acts such as Canned Heat and The Steve Miller Band to headliners.

Some of the band had fallen by the wayside, after the eponymous debut album, Richard Jones had collected his cards in the interests of higher education. This vacancy was filled when Holt volunteered to transfer to bass. Next out was Newsome, who was replaced by Colin and Pete's old colleague John Cuffely. With Wood's exit in 1972, an even simpler expedient was to continue as a less cumbersome four-piece. By then, they were concentrating almost solely on the lucrative U.S. market where their relentless touring was paying off with albums in the lower reaches of the Billboard chart. These were now credited to just The Climax Blues Band; the 'Chicago' having been dropped to avoid confusion with the Windy City's own big band of that name.

After defecting from E.M.I. to Polydor in 1973, instead of the expected sojourn in the studio, someone suggested that a live album would make more sense. After all, it was the Climax Blues Band's stage act that had always been their calling card. It was certainly worth a shot. The venue was to be New York's Academy of Music - which had made or broken many other U.K. groups, including The Kinks and The Moody Blues, who had crossed the Atlantic in the wake of The Beatles. Furthermore, the show was to be broadcast as it happened on WNEW-FM, one of the key radio stations in this major sales territory. At the console would be the reassuring shape of veteran producer Richard Gottehrer who had also ministered to 'Rich Man', the combo's final Harvest LP. Under Gottehrer's supervision at the taping was engineer Jim Price who had also worked on the other side of the desk as trumpeter with both Delaney and Bonnie and Mad Dogs and Englishmen.

With Richard and Jim hovering over the faders and switches on that night of nights, The Climax Blues Band approached their set with the lucid attack that pre-performance nerves often inspires. Though hinged on the urban end of its spectrum, blues forms tackled by the band varied from the exquisite dirge of 'So Many Roads' - with grippingly raw vocals from Cooper - to the disciplined jazzy instrumental 'Flight' in which Cuffely and Holt drove the soloists through several tricky tempo refinements and dynamic shifts. As well as the stylized originals, also extrapolated was the Wilbert Harrison workhorse 'Let's Work Together' - covered most lucratively by Canned Heat and a low-down arrangement of Willie Dixon's 'The Seventh Son' that the group had first committed to wax in 1970 on their third album, 'A Lot Of Bottle'. On the boards, however, it transcended the inescapably bland slickness of the studio as did sterling arrangements of' 'Country Hats', also from 'A Lot Of Bottle' and 'Standing By A River' off 'Rich Man'. There was also a preview of 'I Am Constant' - re-recorded for 'The Stamp Album' in 1975. A respectful nod to the Big Apple was the finale, a rousing 'Goin' to New York' from the canon of Jimmy Reed, an icon of Cooper's since the Hipster Image era.

Possibly the real stars of the occasion were the ecstatic onlookers who assumed the role of rhythm section during the 'You Make Me Sick' shuffle and the faster 'Shake Your Love'. There is often much false bonhomie on live recordings but the genuinely rabid Academy customers lent an inspirational framework for The Climax boys to power through a streamlined but representative sample of the music nurtured during countless hours before the foot-lights since 1969.

Recreational as well as documentary, 'FM/Live' elevated The Climax Blues Band into the U.S.

Alan Clayson (with thanks to Roger Dopson)
(Taken from the CD reissue of 'FM/Live' - See For Miles, 1989 SEE CD 279)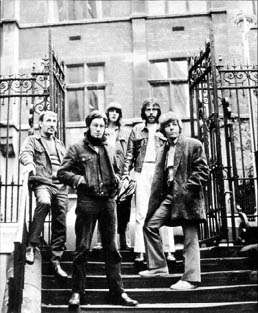 The nucleus of the Climax Blues Band was formed in Stafford in 1968, approaching the end of the British Blues Boom which brought us the likes of Savoy Brown and Fleetwood Mac. Band members Colin Cooper (vocals, sax, piano, harmonica & guitar), Peter Haycock (vocals, guitar, slide guitar), Derek Holt (bass, met.), Richard Jones (bass, keyboards, vocals), George Newsome (drums) and Arthur Wood (keyboards, harmonica), with their electric blues-rock snapped up a deal surprisingly fast to release two albums, one closely following the other, labelled by Rolling Stone Magazine as "Basic-sounding jazz-rock-blues". They kept tightly to this style during the course of over dozen LP productions, as in classic blues numbers ('How Many More Years'), varying rarely but proficiently through Caribbean sea-shanties ('Cubano Chant'), dry up-beat rock songs ('Hey Baby', 'Everything Gonna Be Alright') and moody Jazz statements ('Flight'). On entering the British tour circuit, the perfectly harmonious sextet found the clubs, festivals and universities full of loyal enthusiastic fans, despite low record sales.

Richard Jones temporarily left the band to further his studies; the brilliantly guitar/sax-duel accented LP 'Plays On' having been recorded without him. George Glover (keyboards, vocals) joined the band on the LP, 'A Lot Of Bottle', and that, along with 'Tightly Knit' and 'Rich Man', demonstrated the strong urban blues influences, clearly traditional blues methods having been estranged by then, with a rhythmic rock lining, individualised with soul & funk elements, performed with an electric edge. The Climax Chicago Blues Band entered their main field of play in 1972, performing in the U.S. for the first time. The convincing live takes on the LP, 'FM/Live', took place in New York. This double album displays the strength of this by now confident stage-worth and their fresh energy mixed with their technical know-how and at times witty, playful deliverance received huge acclaim from audiences and critics alike. George Glover left the band, along with Newsome and Wood, leaving the Cooper/Haycock/Holt trio to engage John Cuffely as drummer and doing so simply fled their name to the present Climax Blues Band.

Courtesy of "Christian Graf's Rock Music Lexikon", Taurus Press, Hamburg.
(Taken from the CD reissue of 'Rich Man' - Repertoire, 1990 RR 4045-C)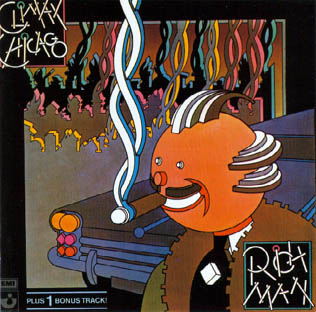 Discography:
Climax Chicago Blues Band (1968) Parlophone, PCS 7069
Plays On (1969) Parlophone, PCS 7084
A Lot Of Bottle (1970) Harvest, SHSP 4009
Tightly Knit (1971) Harvest, SHSP 4015
Rich Man (1972) Harvest, SHSP 4024
FM/Live (1974) Polydor 2382 259
---
To Official Climax Blues Band Page