Week of February 29, 2004
Carson
Personnel:
Ian Ferguson - Bass
Greg Lawrie - Guitar
Tony Lunt - Drums
Broderick Smith - Vocals, Harmonica
Ian Winter - Guitar
Barry Sullivan - Bass
Garry Clarke - Bass
Mal Logan - Keyboards
Mal Capewell - Sax

Albums:
Blown (EMI/Harvest SHVL.608) 1972
On The Air (EMI/Harvest SHVL.611) 1973
(also released in France (EMI/Harvest 064-81.774) 1974)

Both albums released on one CD, Free Records FR2004 (2000)

45s:
Travelling South/Moonshine (Havoc H 1008) 1971
Boogie Part 1/Part II (EMI/Harvest HAR-9965) 1972
A popular Melbourne band who functioned between 1971-73. They were known earlier as Carson County Band. Their work was wide-ranging, but can best be described as boogie rock.

The "Travelling South" 45 saw the band extend beyond their earlier strictly-blues format on the A-side which was notable for a dual-guitar lead riff that leads into a passage of superb slide guitar playing. The flip side was a strong blues song with lots of riffs and superb slide.

Their debut album, 'Blown', was a solid effort full of wild bluesy hard rock. It's notable for Sleepy Greg Lawrie's slick slide guitar work and sported a cover with striking (but simple) sci-fi imagery. It contained a version of 'Boogie', which differed considerably from the single. The material ranged from powerful numbers like this to laid-back blues evidenced in 'Up In Queensland' and 'Sunday In The City' with a rock'n'jazz offering in 'Rock And Roll Game' and an instrumental, 'Banana Power', providing further diversity.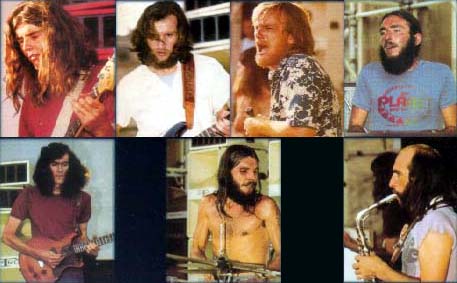 By 1973, they'd lost their sense of direction, as evidenced on 'On The Air'. If you're into blues though, there's still a lot of relaxed playing to be heard here. There are some good guitar licks on Elmore James' 'Dust My Broom' and another version of 'Boogie', whilst 'Dingo' and 'Laid-back Feel' were good mood pieces. The album is a document of their performance at the 1973 Sunbury Rock Festival.

It was no real surprise when they went their separate ways after Sunbury 1973. Broderick Smith went on to The Dingoes.

'Australian Rock 71/72' gave further exposure to three of their songs; 'Don't Worry', 'Moonshine' and 'Travelling South'. 'Friday Night Groove' was included on 'Sunbury 1973', whilst 'Boogie Pt.1' also turned up on 'Boogie Balls And Blues, Vol.1' and on 'Decade, Vol.1'.
Taken from "Dreams, Fantasies and Nightmares" by Vernon Joynson, an extensive guide to Canadian / Australian / New Zealand and Latin American psych and garage music 1963 - 1976.
---