Week of May 2, 1999
Un Biglietto Per L'Inferno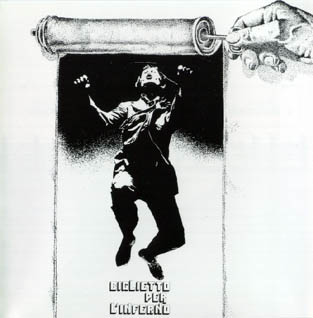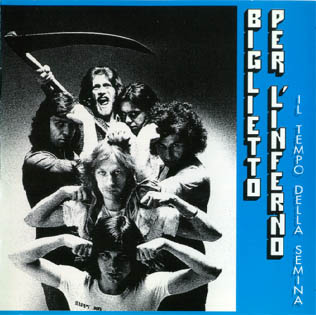 Personnel:
Giuseppe Banfi: Keyboards
Mauro Gnecchi: Drums
Marco Mainetti: Guitar
Giuseppe Cossa: Keyboards
Claudio Canali: Vocals, Flute
Fausto Branchini: Bass
Discography:
LP: "Biglietto Per L'Inferno" (1974), Trident - TRD 1005 (CD: Vinyl Magic VM 006)
CD: "Il Tempo Della Semina", Mellow Records, MMP 106
45: "Una Strana Regina Confessione" (1974), Trident - TRN 1005
45: "Vivi, Lotta, Pensa - L'Arte Sublime Di Un Giusto Regnare' (1975) Trident - TRN 1009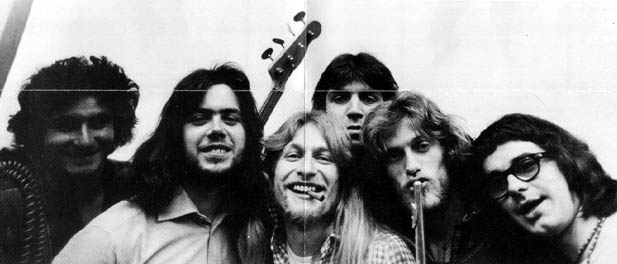 Biglietto Per L'Inferno's story is similar to that of Albero Motore. In fact, this group also received exposure during the 1974 "Avanguardia E Nuove Tendenze" festival. Despite their valid musical concept, the group lived for only one year. Biglietto was formed in Lecco in 1973 and was musically orientated towards the early 1970s hard rock style. It was a genre that, with the coming of progressive music, had been overlooked abroad, and in Italy had practically never existed. However, their first, eponymous, LP, in a strange way, successfully combined this style with Italian lyrics, which were highly inspired, dealing with the hypocrisy and indifference of modern society (conceived as a symbol of hell). The hard rock style of the group's music was never too "heavy", and its smooth and "flowing" characteristics made the album extremely accessible. A single was taken off this first album, released by Trident, containing the instrumental version of the cut, 'Confessioni'. This album is one of the best in the history of all Italian rock recordings, and considered to this day to be a real collectors item, especially in Japan and in Germany.
Biglietto were supposed to record their second album in Germany (a tape of it actually exists). Unfortunately, the group broke up soon after having released their second single. Their greatest moment of popularity came in 1974, thanks to a number of live concerts given, where singer Claudio Canali was particularly outstanding. After their breakup, only keyboard player Giuseppe 'Baffo' Banfi continued as a solo artist, releasing a few LPs. After all these years, their second album has finally been made available (on CD only), entitled, "Il Tempo Della Semina"; it capitalizes on the concepts brought forth by their debut, developing them even further. It seems that a video of one of Biglietto Per L'Inferno's performances also exists, this being a concert recorded by the Swiss television back in 1975. For collecting purposes it must be noted that their second single is only rumoured to have been released; this is what the newspapers had reported at the time, but the group's former members actually deny it...
---
Taken from "The Return of Italian Pop" by Paolo Barotto (Vinyl Magic VM201, 8016158220124)
Vinyl Magic web site: www.btf.it
---