Week of March 31, 2002
Baumstam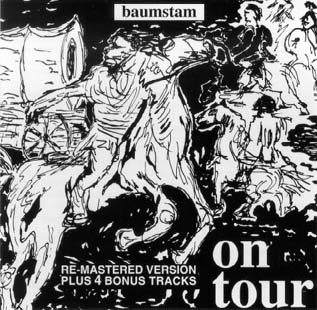 Personnel:
Ulrich Klawitter - Guitar, Vocals
Michael Lobbe - Guitar
Volker Wobbe - Bass
Gerhardt Meyer - Drums
Album:
"On Tour" (BMF BS 6232 855) 1972
Re-released on CD by TRC in 1990. The second edition of this is remixed.

A little-known band which made one single and a tremendous album. Their album consisted of nine standard-length, blues-based hard rock songs, similar to rural sounding loud rockin' bands like Reaction and Incredible Hog. Part of the album was recorded live. The great treasure of this album is the mean and growling guitar sound, with the fuzz effects exaggerated to the extreme! The original private issue is a real "monster" at auctions and sells for crazy prices (600 DEM). In 1990, a re-release at last appeared on CD (released by TRC), which could be acquired a bit more cheaply!
Taken from Cosmic Dreams at Play - A guide to German Progressive and Electronic Rock by Dag Erik Asbjørnsen, Borderline Productions, ISBN 1-899855-01-7
---