Week of October 1, 2000
Back Door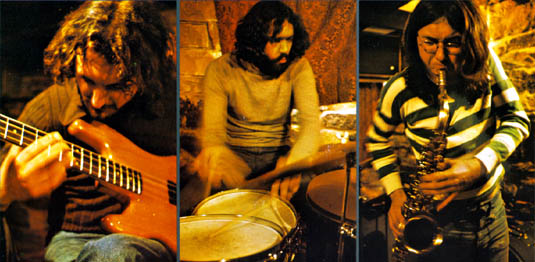 Personnel included:
Ron Aspery - Sax, Flute
Tony Hicks - Drums
Colin Hodgkinson - Bass, Guitar, Vocals
Peter Thorup - Vocals, Guitar
Adrian Tilbrook - Drums
Albums:
Back Door (Blakey BLP 5989) 1972 R1
Back Door (Warner Bros K 46231) 1973
Eight Street Blues (Warner Bros K 46265) 1973
Another Fine Mess (Warner Bros K 56098) 1975
Activate (Warner Bros K 56243) 1976
45:
The Dashing White Sergeant/The Spoiler (Warner Bros K 16490) 1975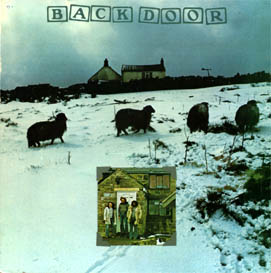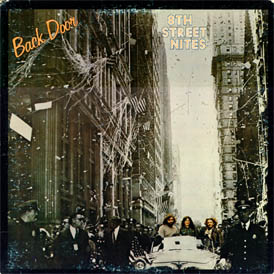 A jazz-rock trio from Blakey in Yorkshire whose debut album was originally issued on a small local label but caused considerable excitement when it was discovered by the music press. This led to its reissue on the Warner Brothers label and much wider exposure for Colin Hodgkinson's unique bass-playing. Aspery and Hodgkinson penned all the compositions on their all instrumental debut but somehow their subsequent albums never reached quite the same heights.

Hodgkinson and Aspery had previously played with Eric Delaney, whilst Hicks was ex-Assegai. In January 1974, Peter Thorup (Snape, CCS) joined and Adrian Tilbrook later replaced Tony Hicks on drums. Their final album was produced by Carl Palmer.
Tony Hicks later played with Pure Chance and Pacific Eardrum. Hodgkinson joined Whitesnake for a brief period in 1983 before joining Blues Reunion and eventually Electric Blues Duo. Aspery also later joined Planet Earth.
(Vernon Joynson / Malachi Ritscher/Jim McMaster, ed. by Alex Gitlin)
Taken from The Tapestry of Delights - The Comprehensive Guide to British Music of the Beat, R&B, Psychedelic and Progressive Eras 1963-1976, Vernon Joynson ISBN 1 899855 04 1
---