Week of March 2, 2003 (Aunt Mary)
Aunt Mary
Bjørn Kristiansen - vocals, guitars
Svein Gundersen - bass, vocals
Ketil Stensvik - drums
Jan Groth - vocals, keyboards
Bengt Jenssen - keyboards, vocals
Albums:

Aunt Mary, 1971 Polydor 2380 002 (DK)
Loaded, 1972 Philips 6317 010; CD reissue Polygram 842 970-2, 1990
Janus, 1973 Vertigo 6317 750; CD reissue Polygram 842 971-2, 1990
Live Reunion, 1980 Philips 6327 059; CD reissue Pan Records PACD 010, 1993
The Best Of, 1974 Philips 6478 009
The Best Of 2, 1975 Philips 6478 055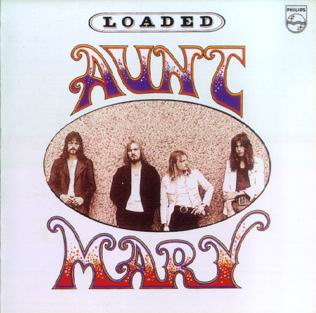 Aunt Mary came from the small town of Fredrikstad in Østfold, but were one of the best Norwegian bands of the early seventies. Their first album was recorded and released in Denmark, as they lived there at the time. Aunt Mary lacked distinction at this early stage with various imitations of Jethro Tull, Traffic and Led Zeppelin among the short tracks. In late 1971, they recorded a dreadful ballad with gospel overtones named, "Jimi, Janis & Brian" (included on the "Best Of"). Luckily, Groth left soon after and took the gospel with him.
"Loaded" (1972) saw the arrival of Bengt Jenssen, who brought in some classically-inclined organ style to counterbalance the progressive blues of the others. The songwriting was much better, as evident on the tough "Joinin' The Crowd" and "G-Flat Road", but many people forget Aunt Mary's softer side (influenced by the 1968 version of The Beatles ) on "Delight" and "Farewell My Friend". "Blowin' Tiffany" represented Aunt Mary at their most progressive, hinting at things to come. This track also revealed hitherto-hidden Emerson, Lake & Palmer and King Crimson influences (spot the tightly-echoed, manipulated vocals and compare them to "Indoor Games" from "Lizard").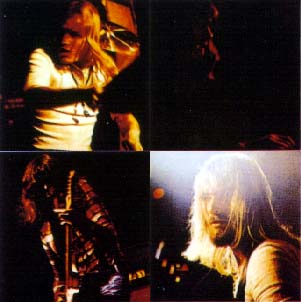 "Janus" (1973) was no doubt their most accomplished album with some tracks forming mini-suites and more extended instrumental segments. The Beatlesque folkish songs merged in with impressive electric guitar and organ creating different textures on each track. This heavy progressive-plus-folk formula has similarities to the Danish groups Culpeper's Orchard and Old Man & The Sea, giving the impression that Aunt Mary adopted the Danish vibes of the Summer of '71!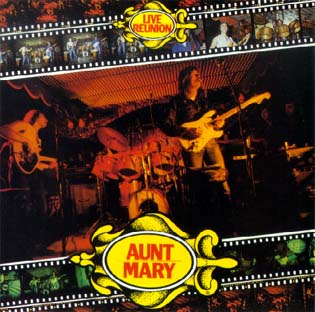 Unfortunately, they disbanded at the end of 1973 for the usual reasons (an indifferent public and lack of both money and motivation). Their 1980 "Live Reunion" was a very good comeback (with no Clapton imitations!) Indeed, it was their most powerful work, recorded as a trio.
Taken from Scented Gardens of the Mind - A guide to the Golden Era of Progressive Rock (1968-1980) in more than 20 European Countries, by Dag Erik Asbjørnsen, Borderline Productions, ISBN 1-899855-12-2
---